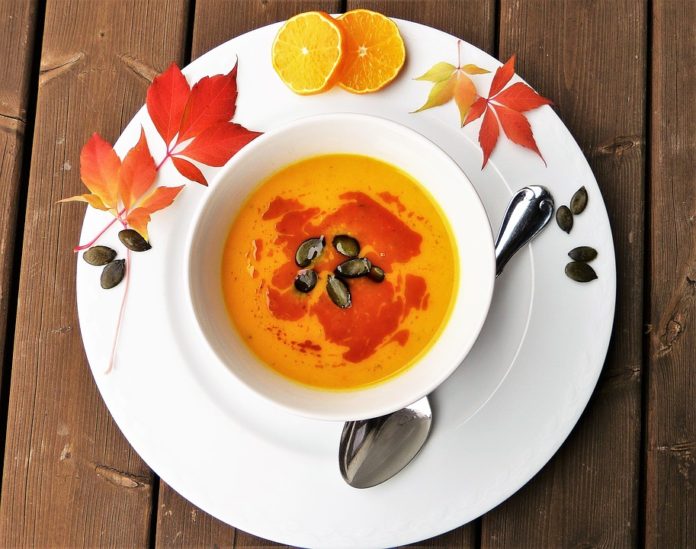 Gluten-free.
Prep and cooking time: 1 hr, 30 min.
Serves 4.
It's official: autumn is here, and we're loving it. Bubbling hearty soups, warm kitchens and friends gathered around the dinner table is what makes life's little moments a big deal. Incorporate the bounty of fall vegetables and the healing qualities of turmeric, ginger, cumin and cannabis oil into this rich pumpkin soup to relax the brain and soothe the body. (Remember: when adding your dosages, the rule of thumb is to start slow, and go low.)
Canna-Pumpkin Purée
1 medium pumpkin
¼ cup Greek olive oil
½ cup finely diced onions
1 thumb-sized piece of fresh ginger, grated
4 tsp Cannabis olive oil (1 tsp Cannalife Indica Strain: Pink Bubba = 20 mg THC)
Salt and pepper to taste
Preheat oven to 400˚F. Slice top off pumpkin, remove innards and pour in Greek olive oil and place diced onions inside. Replace the pumpkin "lid" and pop in the oven to roast for 40 minutes. Scrape out cooked pumpkin flesh and drain excess juice in a colander placed over a bowl (retain liquid for the soup). Add ginger and blitz in a food processor. Measure in 4 tsp of Cannabis olive oil and give it a quick blitz. Add salt and pepper to taste. Divide into 4 servings and set aside.
Caribbean Split Pea Soup
2 tbsp Greek olive oil
1 tbsp butter
1 cup thinly sliced leeks
1 tbsp minced garlic
1 small Thai chili, smashed
4 chicken thighs, skinless and boneless,
diced into bite-size pieces
1 tsp organic turmeric powder
1 tsp organic cumin powder
6 cups chicken broth, plus leftover pumpkin juice
2 cups cooked split peas
2 cups diced potatoes
2 cups sliced carrots
½ cup chopped celery
2 handfuls spinach
Salt and pepper to taste
4 lime wedges
Heat olive oil, butter and leeks over low heat and sauté gently. Add garlic and chili, increase heat to medium, and fast fry. Toss in chicken, brown on all sides and sprinkle with turmeric and cumin. Stir well to give it all a quick roast. Pour in all liquids and the split peas. Stir well and bring to a simmer. Add remaining vegetables and simmer for 25 minutes, until cooked through. Season with salt and pepper and divide into 4 servings. Top with one serving each of canna-pumpkin purée, place a wedge of lime on top of the pumpkin purée and serve immediately. (Placing the purée on top allows diners to decide how much of a dose to consume; they can spoon off some of the purée, or go bold and mix it all in.) Add a dash of lime juice to balance the flavours. Add more citrus to reduce "headiness." Citrus cuts the effects of THC.
How did it affect our test diners?
Diner 1: 90-pound, 27-year-old female dancer with shoulder pain
Result: relaxed, less pain, felt a bit of a heady vibe
Diner 2: 170-pound, overworked 30-year-old male singer
Result: 9 hours of uninterrupted sleep
Diner 3: 150-pound, 35-year-old male, recreational marijuana user
Result: tingly relaxation, no headiness
Diner 4: 165-pound, mid-50s male, corporate lifestyle, restless sleeper
Result: slept soundly, woke up energized