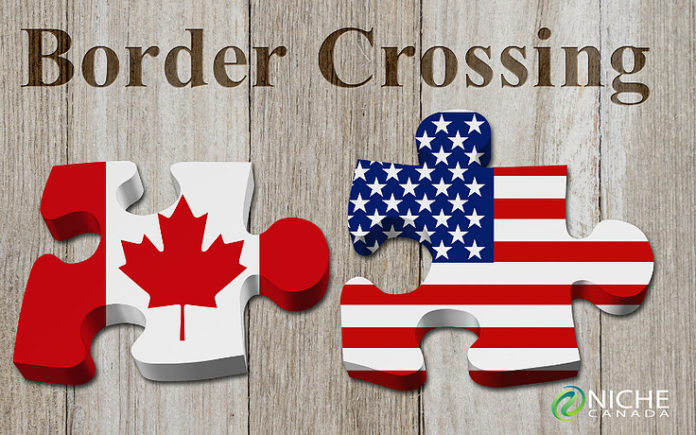 Have you ever been a user of cannabis or been involved in the cannabis industry? It's becoming clear that these questions could have very serious implications for Canadians attempting to cross the U.S. border.

One of the most concerning issues to arise out of the legalization of recreational cannabis in Canada is the unintended consequences for those working in our country's legal cannabis industry. That's because those who answer yes to either of those questions could be denied entry to the United States, or worse, face a lifetime ban.

Immigration lawyers have been highlighting the issue for quite some time, but it wasn't until earlier this month that the alarm bells got louder. That's when a senior U.S. government official stated that border guards will still treat cannabis as a banned substance and legal cannabis workers as drug traffickers.

The official stated: "crossing the border or arriving at a U.S. port of entry in violation of this law may result in denied admission, seizure, fines, and apprehension."

This policy was recently confirmed, when the U.S. Customs and Border Protection (CBP) issued a statement confirming that Canada's legalization of cannabis will not change CBP's enforcement of United States laws: "As marijuana continues to be a controlled substance under United States law, working in or facilitating the proliferation of the legal marijuana industry in U.S. states where it is deemed legal or Canada may affect admissibility to the U.S."

And, while some lawyers believe that those engaged in the legal cannabis industry in Canada are admissible to the U.S. so long as they're travelling for reasons unrelated to the industry, it isn't stopping those in government from taking notice and action.

BC's Minister of Public Safety is urging the federal government to work with U.S. officials to find common ground: "This is very much an issue that the federal government needs to make a priority and take very seriously in trying to find a solution, because the impact could be significant."

Mike Farnworth says he's heard examples of people who have been given lifetime bans for wanting to attend a cannabis trade fair or purchase cannabis-related equipment in the U.S.

He says he's even considering dropping the word 'cannabis' from the name of the government's cannabis stores because he's worried that employees will experience problems at the border.

Even some American government representatives are hoping the two countries can find a compromise: "To deny transit to Canadian citizens because they're involved in what is a lawful business in Canada is just not what Congress intended," says California Democratic Representative Luis Correa. "For us to be applying the law in the way we are applying it does not make sense."

However, the federal Minister of Organized Crime Reduction Bill Blair is trying to downplay the issue, pointing to the fact that there have been no widespread issues for those working in Canada's medical cannabis industry. However, that argument fails to recognize that the legal recreational system will be far larger and is structured differently. For example, if you're a retail worker in a BC Cannabis Store, how do you answer the simple questions: 'where do you work or what do you do for a living?' – very common questions asked at the border.

Lawyers and government officials are hoping the Canadian government will intervene and pressure the U.S. government to issue a policy directive stating that as long as Canadians are not doing anything to violate U.S. laws, employees and investors in Canadian cannabis companies, as well as consumers, will not be subject to the U.S. controlled substance trafficking bar.

In 23 days, our federal government will create history. They were bold and transformative when they paved the way for Canada to become the first advanced industrialized nation to legalize and regulate cannabis from production to consumption.
Many are now hoping this bold move will not have lifetime consequences for those who are just trying to earn a living and capitalize on the opportunities legalization has created.
STORY BY NICHE CANADA