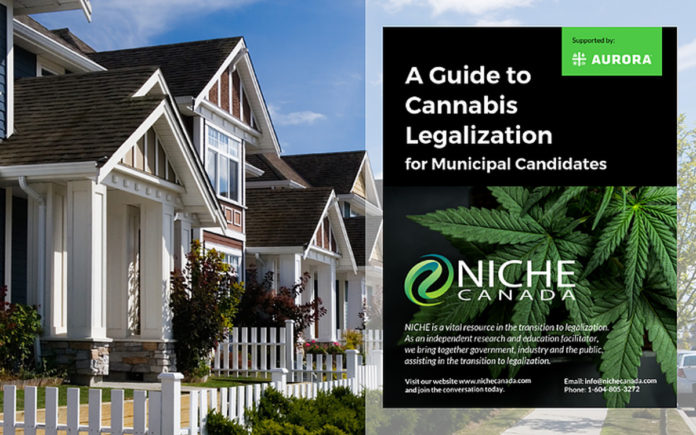 The National Institute for Health and Education (NICHE) and Aurora Cannabis Inc. launched a new guide today that aims to inform municipal candidates on the new cannabis laws that will come into effect next month.
"Legalization is complicated and sifting through the multitude of regulations can be a daunting process," said Barinder Rasode, CEO of NICHE Canada. "Municipalities are on the front lines of legalization and we want to help prepare them for the changes that are about to take place. We want elected officials to have robust and meaningful conversations about what the new regulations entail and how they will impact communities." 
Local B.C. government leaders are gathering this week for the annual Union of BC Municipalities (UBCM) convention in Whistler, in advance of this year's municipal elections that are taking place next month.
See related: B.C. municipalities to debate asking for 40 per cent of cannabis tax revenue
Several other provinces and territories will also head to the polls this year to elect new local government representatives, including Ontario, Manitoba, PEI, Yukon, and the Northwest Territories.
A release says the new guide provides a "synopsis for some of the key topics related to legalization, including a breakdown of who is responsible for regulating what, youth protection, workplace policies, cannabis promotion and the retail landscape."
"In partnering with NICHE, our shared goal is to support informed discussions and decision-making among candidates and elected officials, by providing factual information in an easy to use format," said Cam Battley, Aurora's Chief Corporate Officer.
"Legalizing cannabis for adult consumer use is intelligent public policy designed to achieve a number of specific beneficial objectives, but it is critical that municipalities have the information they need to ensure that implementation of this new nationwide policy is successful from coast to coast," Battley added.
More than a dozen resolutions going to the UBCM conference this week are about cannabis, including a Special Resolution that seeks to advance a short- and long-term cannabis excise tax revenue sharing strategy with the provincial government.
"There is no doubt that cannabis will be a hot topic this week and in local government election campaigns across the country this year. We want the debates around legalization to focus on facts and solutions, and we want to arm our elected officials with practical information to help inform those conversations," said Rasode.
For more information and to download a copy of the guide, visit nichecanada.com/guide-to-cannabis-legalization