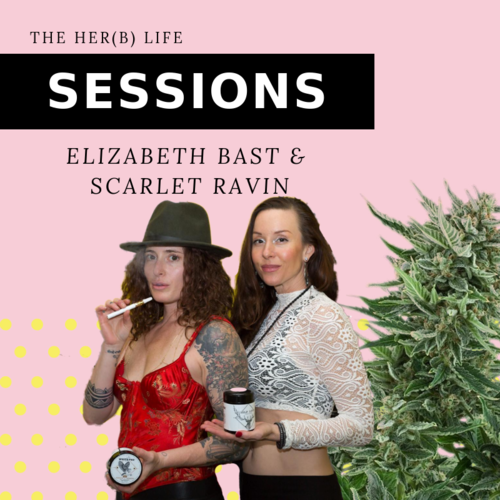 This Her(b) Life "Sessions" episode discusses cannabis as a spiritual ally, an aspect of the plant that is often glossed over in the mainstream conversation.
"Spirituality is a concept that differs from from person to person, what is deemed spiritual for a person of one faith may not entirely align with someone of another, yet there are many similarities, which are almost always rooted in introspection," podcast hosts note.
In this episode, guests Elizabeth Bast and Scarlet Ravin discuss how to harness the plants full capabilities with the practice of mindful consumption.
"For the physical body cannabis can have powerful healing properties, however it's also an incredible tool for emotional and spiritual reflection," note podcast hosts. "The plant, when used with intention, can be an aid for creativity, self love, self awareness, a tool for healing traumas, and as a facilitator of spiritual connection."
SCARLET RAVIN is founder of the White Fox cannabis company and a lifetime entrepreneur who fell in love with cannabis at a young age. After experiencing an overdose, she found herself realigned. Her path was informed by many studies of healing arts, love, and natural medicine. White Fox has both full spectrum hemp CBD & THC lines on the market featuring "Ayurvedically formulated and botanically enhanced organic MCT oil tinctures, massage oils, salves, and vape pens with the highest vibrational quality alchemical, spirited, magic medicine."
ELIZABETH BAST is the author of Heart Medicine: A True Love Story: One Couple's Quest for the Sacred Iboga Medicine & the Cure for Addiction. Bast serves as a writer, yoga teacher, performance artist, and holistic coach specializing in entheogenic medicine integration, addiction recovery, and women's empowerment. In 2014, she experienced the Missoko Bwiti initiation and rite of passage in Gabon (Africa), and has since returned to Africa multiple times for traditional shamanic studies.
She is a 2018 recipient of a "Women of the Psychedelic Renaissance" grant through Cosmic Sister and their fiscal sponsor, the Multidisciplinary Association for Psychedelic Studies (MAPS). The eco-feminist educational advocacy group Cosmic Sister "promotes a balance of power between genders and promotes women's voices in the field of psychedelic medicine."
Together, Scarlet & Elizabeth are creating "The Bliss Nectar Experience," described as "a ceremonial journey into sacred embodiment featuring yoga, tantra, meditation, & plant spirit meditation with cacao, essential oils, & cannabis medicines from White Fox. This is a new/old devotional way of communing with cannabis, one of humanity's oldest plant allies with whom we have co-evolved. There will be something for every tolerance level & all yoga levels!"