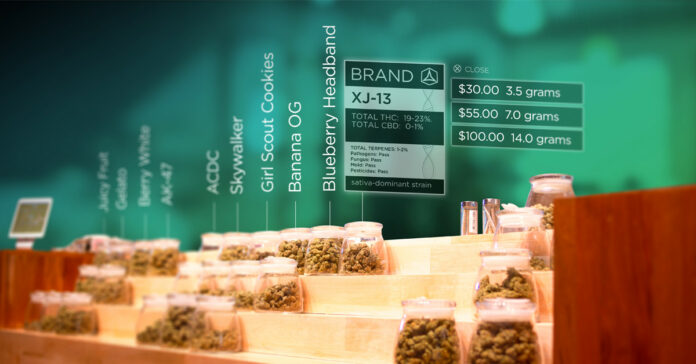 From virtual tours to augmented reality (AR) dispensaries, cannabis companies are delving into technology to deliver new experiences.

"Imagine an environment where you're going with your cellphone into the cannabis store," said Jay Rosenthal, Co-Founder and President of Business of Cannabis. "You scan the SKU, the barcode, and it brings up on your phone all the information about the product."
Financialbuzz.com reports that the gaming segment in the AR industry accounted for 26% of the total revenue in 2017 and is even expected to maintain its lead into 2025.

"The exponential growth of the AR industry has also led the technology to be adopted in other fields such as education, information, retail, and even the cannabis industry," a Financial Buzz release notes. "In particular, the cannabis industry is increasingly using AR technology for virtual retail experiences to enhance customer engagement or to improve grow houses' operations. The technology also allows customers to walk through dispensaries and view virtual projected images and information about the product on their smartphones or smart lens. On the supply side, AR can also help cultivators see data regarding the strain on their devices to access quick and onsite information."
According to data compiled by Allied Market Research, the global augmented and virtual reality market was valued at USD 11.32 Billion in 2017 and is expected to reach USD 571.42 Billion by 2025.
NexTech Launches #AugmentedReality Dispensary Experience for the Legal #Cannabis Market https://t.co/8wyt7CemUI $NEXCF $NTAR

— NexTech AR Solutions (@NexTech_AR) March 12, 2019
Here are a few cannabis companies delving into technology:

Nextech AR Solutions Corp. This week the company announced it was launching an "innovative augmented reality ("AR") platform for the legal cannabis industry – an AR Dispensary.
To experience the AR Dispensary, click here.
"NexTech's AR Dispensary utilizes immersive AR technology and rich 3D 360-degree photography to provide an eCommerce experience like no other in the legal cannabis industry. The white-label web-based AR solution, integrated into a dispensary's website seamlessly through just a snippet of code, enables consumers to preview products like flowers, gear, pre-rolls, and more from home or on-the-go," a release notes. "The platform can also support features for online ordering/pickup, and online ordering/delivery (where permitted), creating a complete digital dispensary experience." NexTech says it is bringing a next generation web enabled AR platform with Artificial Intelligence and analytics to the Cannabis industry, eCommerce, education, training, healthcare and video conferencing.
"Having integrated with Shopify, Magento and WordPress it's technology offers eCommerce sites a universal 3D shopping solution. With just a few lines of embed code, the company's patent-pending platform offers the most technologically advanced 3D-AR, AI technology anywhere," a release notes. :Online retailers can subscribe to Nextechs state of the art, 3D-AR/AI solution for $79/mo. The company has created the AR industries first end-to-end affordable, intelligent, frictionless, scalable platform. To learn more, visit www.nextechar.com.

Organigram Holdings Inc. is a licensed producer of cannabis and cannabis-derived products in Canada that recently announced the release of an "immersive 360-degree virtual facility experience," highlighting innovative indoor production practices at its Moncton, New Brunswick campus. The tour, available as an immersive 360 experience for both Android and iOS-enabled devices, takes viewers through Organigram's entire production process, from propagation to packaging. Facility infrastructure including mechanical controlling, irrigation and the campus' 40-megawatt substation are also highlighted.
Organigram Releases Unprecedented Virtual Reality Tour of Moncton Campus. Read more:https://t.co/HsrTwe2rH9

*To view without a VR-ready headset, visit https://t.co/JXybnCvpFz from a laptop or desktop computer. To download the VR app for mobile, follow the steps at the link.* pic.twitter.com/4TZQkJ5tf0

— Organigram (@discoverOGI) February 19, 2019
"We are told time and time again by industry experts, analysts and investors who visit that our production facility is precedent-setting for indoor cannabis production," Organigram Chief Executive Officer Greg Engel said. "We're proud of the innovation and engineering that's gone into the design; our geographic location makes it challenging for many visitors to visit in person, so we're eager to offer them an inside look from wherever they may be in the world."

Future Farm Technologies Inc. is a Canadian company with holdings throughout North America including California, Massachusetts, Florida, Maine, Puerto Rico and Newfoundland. Future Farm Technologies Inc. recently announced that the Canadian Securities Exchange approved the listing of the common shares of NexTech AR Solutions Corp.
NexTech is bringing augmented reality to the Cannabis market by turning 2D products into exciting 3D consumer experiences. NexTech is currently developing a proprietary and disruptive Augmented Reality (AR) advertising and education platform that uniquely engages by connecting brands and retailers through a fully immersive 3D AR experience called Native AR.
NexTech launched its ARitize™ app in August 2018, which is capable of hosting many brands 3D objects and augmented reality experiences.
"NexTech's vision is to merge augmented reality, a high growth technology, with Cannabis and other industries. We have been hard at work over the past year building a team and technology platform which is focused on bringing state of the art augmented reality to the cannabis industry and other industries," says Evan Gappelberg, Chief Executive Officer of NexTech.