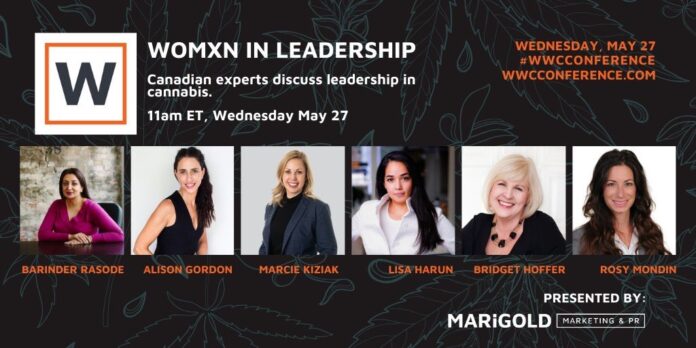 Organizers of the world's first-ever free virtual cannabis conference for women say they are "pleasantly surprised and overwhelmed" at not only the attendance of the event but the connections that were made.
Hosted by Marigold PR, the Womxn, Wellness & Cannabis Conference (WWC Conference on May 27 included live online panels, keynote speaking engagements and networking opportunities through live chats, real-time question and answer periods, and online facetime, all with the goal of celebrating the "feminine cannabis experience."
#WWCConference presented by @MarigoldPR.

➡️Free Virtual Global Event
➡️Wednesday, May 27, 2020.
➡️Kicks off 8:30 AM ET.

Shoutout to our newest media partner Cannabis Wiki – @strainexplorer ? pic.twitter.com/ZS1yobkaBN

— wwcconf (@WWCConf) May 23, 2020
It's estimated that roughly 950 women from across the world took part in the many online panels held on May 27, 2020, with more than 40 prominent industry leaders from eight countries highlighting a broad spectrum of topics from diversity and inclusion in cannabis to marketing to women in leadership and the regulatory landscape. 
"From the beginning, we had an amazing advisory committee, and I'm so grateful for their support because what that allowed us to do was program the conference first and have a really solid plan around topics that would be really relevant to our audience," explained Katie Pringle, co-founder of Marigold PR. 
. @KatieEPringle shares a message of gratitude. @WWCConf was an incredible day, and yes presentations will be available soon. Thank you for you joining us for our first year. ?#WWCConference pic.twitter.com/PNRlw8NHqK

— Marigold Mktg & PR (@MarigoldPR) May 28, 2020
Pringle explained that when it was clear the original in-person event had to pivot to become online-only due to the COVID-10 pandemic, "it's not that we had to start from scratch."
"We still had this really clear plan about the types of dialogue that we wanted to have and the networking opportunities we wanted to enable so we worked from there and pivoted like you do in cannabis all the time," she told BotaniQ Magazine. "It's a resilient industry. I think the conference helped fulfill a need for connection that so many of us have. I think we all miss human connection. But in the interim, the ability to actually network and engage with people and ask questions and get custom answers is important."
One element of the conference that stuck out for Pringle was discussions continuing on social media after the fact.
"Social was crazy, Instagram and Twitter," she said. "It was just blowing up the feed and it was so cool to see people take dialogue from live chats and dialogue from the day and bring it online. There was some back and forth there and some honest conversations around things like parenting during COVID and trying to work in this industry. There were some conversations around stigma and so because it was accessible, the conversations continued to grow."
We're creating a safe space to discuss, engage, and dig deep into the importance of diversity and inclusion in the cannabis industry. Hosted by @NatashaRaey
Speaking: @iamjesshuman, @ErinEGratton, Nora Nathoo – @EmeraldHealthHQ & @InfosecIvy
Register! https://t.co/5bSm7spfLn pic.twitter.com/OorcCqcFQg

— wwcconf (@WWCConf) May 27, 2020
Pringle said the fact that this virtual conference was completely free also meant a broader spectrum of people were included.
"I have really heard that from people entering the space that while they want to attend conferences and they want to be a part of the community, it's not cheap to attend a conference and to get on a plane and so I hope that we were able to really help some people solve some problems," she noted. "We even had some we've had interns, people looking for internships, people who are just graduating from some of the cannabis-focus programming across Canada now looking for internships, so I think there's this kind of next wave of people coming into the industry and then people in the industry, there's been a lot of shake up between layoffs and leadership changes, you know. There's lots of people looking for their next move."
Amazing to see so many smiling faces on the Compliant Marketing Discussion. Register for your free access https://t.co/WEKxYUCbkN
➡️ #WWCConference presented by @MarigoldPR pic.twitter.com/4ydtMCLoN5

— wwcconf (@WWCConf) May 27, 2020
The conference could not have had this level of reach or impact with an in-person conference alone, Pringle added.
"You can only get so far depending on your capacity. Fingers crossed next year we can do a hybrid. People are already asking about next year and there's a lot of brands that are interested in participating in a big way next year. So we're really pumped up about that. And hopefully there can be online as well as in-person opportunities, so fingers crossed."
The WWC Conference was open to anyone working or interested in working in the cannabis industry Learn more at wwcconference.com. Follow WWC Conference on Twitter and Instagram for the latest updates.
I'm so glad I caught this! Thank you @jamiesashaw @BarinderRasode @squamishsusan and @MarigoldPR for this frank and open conversation. I feel like I just sat at the feet of brilliance. #WWCConference pic.twitter.com/ZZlzK9dce3

— Andrea Dobbs She Her Hers (@Andreadobbs2) May 27, 2020