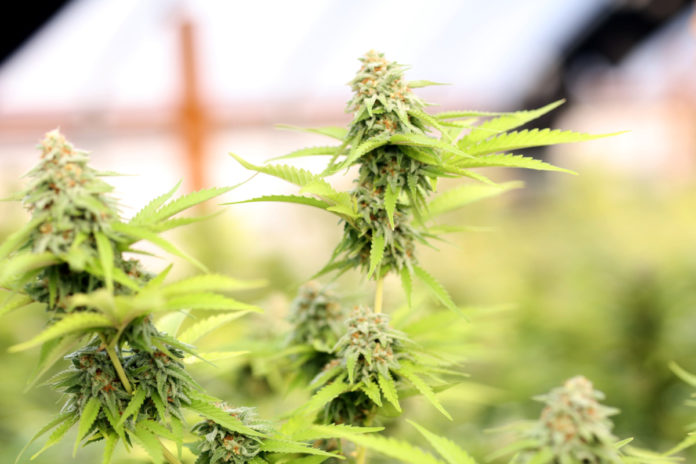 A quick look at some of the news in the cannabis industry last week:
Pivot Pharmaceuticals Inc. has entered into a binding letter of intent to acquire 51% of iAmHealth, an online nutraceutical distribution and sales platform serving the EU market. "The strategic acquisition of iAmHealth (www.iam.health) will provide Pivot with an immediate online store and virtual footprint for its product portfolio of water soluble, shelf stable and advanced bioavailable CBD formulations," a release notes. "Pivot and iAmHealth will together focus on CBD related products and on products using micelle technology for vitamin supplements, power drinks, other nutraceutical products, and products supporting cancer patients during radiation and chemo therapy, tapping into the fast-growing nutraceutical market in key European markets." iAmHealth products have been tested and used in associated doctor and physiotherapist practices prior to commercial launch.
Aphria Inc. and TruTrace Technologies Inc. have announced that Aphria has joined Phase 2 of the Shoppers Drug Martmedical cannabis verification pilot program. The blockchain-secured Pilot Program is specifically designed to "increase transparency, interoperability and product identification within the medical cannabis industry." The Pilot Program uses TruTrace's StrainSecure™ technology as a "central hub for identity management, asset tracking, validation, and product authentication."  Aphria's Irwin D. Simon said "we are thrilled to partner with Shoppers Drug Mart and TruTrace Technologies to increase transparency within the medical cannabis industry," adding that "we take responsibility to heart and recognize the importance of standardized testing and quality assurance."
The Assembly of First Nations convened its first-ever National Cannabis Summit in Vancouver last week, and delegates addressed issues including jurisdiction, health, and social and economic impacts. According to a release, the Summit is one of the most comprehensive examinations of the implications and issues surrounding First Nations and legal cannabis. "This Summit is about First Nations directly addressing the many issues related to legal cannabis that were not addressed by the federal government in implementing this new regime," said AFN Regional Chief Terry Teegee, who oversees this portfolio for AFN. "We'll be examining critical issues related to revenue sharing, trade, health and social impacts and more. The purpose of this Summit is to provide the best and most current information on all aspects of legal cannabis so First Nations can make informed decisions. The government excluded us from this important dialogue and we are filling the space and finding ways forward that will respect First Nations rights and jurisdiction." Hundreds of First Nations leaders and citizens, along with experts in health, economics, law and social development gathered in Vancouver for the summit.
"It's an opportunity for your community to assert your jurisdiction, assert your self-determination. We want to be a part of the community." – @terry_teegee, regional chief of the B.C. Assembly of First Nations. #AFNCannabisSummit @AFN_Updates https://t.co/J7gedGvAwc

— NICHE Canada (@NICHECanada) September 5, 2019
Canadian craft cannabis brands organization Pasha Brands has acquired the brand "Baked Edibles," previously used by Canada's longest-running commercial cannabis bakery. "In its previous iteration, Baked Edibles was an iconic pre-legalization brand that served Canadians for years and will now take its place among leading edible brands in the regulated market," according to a release."  Jason Longden, CEO of Pasha, said the acquisition is "a natural fit for Pasha and exemplifies our approach to bringing authentic cannabis brands into the legal marketplace," adding that "Baked Edibles has been a force in the Canadian cannabis industry and has inarguably set the standard of what high quality edibles should be. With Health Canada regulations for edibles and consumables anticipated in the coming months, we look forward to further developing our product offering."
Fire & Flower Holdings has entered into asset purchase agreements with wholly-owned subsidiaries of Cannabis Cowboy Inc. to acquire eight proposed cannabis retail stores under development in Alberta. "This acquisition will increase Fire & Flower's retail footprint across the province of Alberta, including three additional high-traffic locations in the major urban market of Calgary," shared Trevor Fencott, Chief Executive Officer of Fire & Flower. "Adding these additional retail locations is a demonstration of our Company continuing to execute on our growth strategy in key markets." Click here for a list of the eight store locations. 
Deloitte and TruTrace Technologies Inc. have announced a strategic alliance to deliver blockchain product-traceability solutions to the cannabis industry. According to a release, the alliance will "improve clients' ability to build trusted brands, ensure medical and recreational distributors and retailers receive accurate shipments, and provide consumers with confidence they are buying verified products from credible sources." The release notes that using its StrainSecure™ system the TruTrace team collects plant-testing data and performs genomic verification in plant batches; and the information is registered in a blockchain-enabled database for intellectual property protection and strain validation. "It is essential for companies bringing emerging technology to market to find the best partners to grow with, and we are very excited about our alliance with one of the most respected names in global business," says Robert Galarza, CEO of TruTrace. "By working together to rapidly scale the adoption and implementation of our technology, we are confident that we can bring a greater level of traceability and trust to this evolving industry."
E-commerce company CannaOne Technologies has entered into a Letter of Intent to acquire 100% interest in Real Life Sciences. On April 23rd, CannaOne Technologies announced a formal partnership with Real Life Sciences to launch and operate the BWell CBD online marketplace in the US. Under the terms of this agreement Real Life Sciences acted as local managing partners for the BWell online marketplace providing strategic management, financial and business development expertise. As the managing partner of the BWell Marketplace, Real Life Sciences maintained a 75.1% ownership interest. "Real Life Sciences' expertise, vast network and strong relationships within the US has brought substantial value to the BWell marketplace during the past months and has been a key factor in the early launch for the business," said CannaOne Technologies CEO, Mr. Riby-Williams. "BWell (www.thebwellmarket.com) is now capable of immediate sale and delivery of 140 high quality CBD products at extremely competitive prices to thousands of potential households in the US. We believe that this infrastructure and knowledge contributed by Real Life Sciences to date provides substantial baseline support towards our Company now acquiring a sole ownership stake in the BWell marketplace that will assist to potentially provide long term substantial value to our shareholders."
Do you have news you'd like to submit for our weekly roundup? Please email your news release to [email protected].