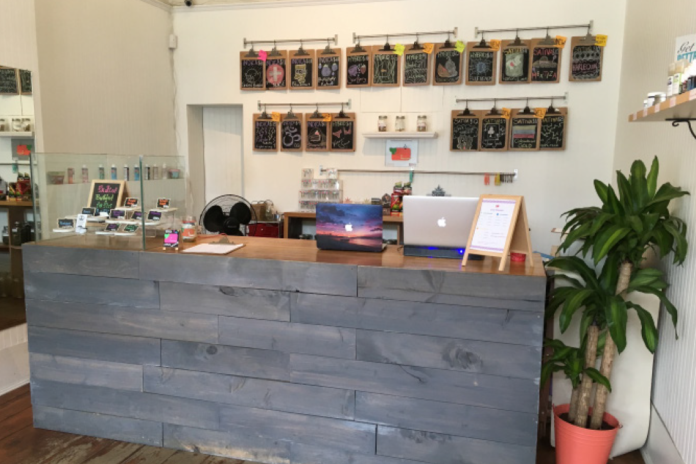 By global or even North American standards, Vancouver's marijuana dispensaries have a long way to go when it comes to incorporating cutting-edge design elements into their storefronts.
Until very recently, most of Vancouver's nearly 200 marijuana dispensaries invested little in the design and visual appeal of their stores. Seemingly by default, stores tended to follow one of only two style templates. The first model was inspired by a stoner teenage dorm room fantasy, with giant neon marijuana leaves buzzing angrily in the front window, walls haphazardly clothed with black-light posters of dancing psychedelic bears, and counters littered with tattered and overflowing cardboard boxes of rolling papers, pipes and pills. The second template was much more clinical, positioned more like a doctor's office than a retail outlet, with iron-barred windows, hospital-green painted walls, and a labyrinthian series of checkpoints that not only kept customers away from the product, but also denied friendly opportunities for education and demystification.
Perhaps these storeowners were too worried about being shut down by the city or raided by police to put time, money or effort into a modern makeover. But since February, when the B.C. Supreme Court allowed cities to regulate marijuana dispensaries, progressive proprietors have had the breathing room to entice customers with a sophisticated look that matches style with substance and stays in step with mainstream attitudes about weed.
Here are five stores that we think represent the next wave of modern dispensary design in Vancouver.
leaves of Zazie
Just off Main Street, Leaves of Zazie is nestled within a bright, cozy, high-ceilinged, cream-coloured room that celebrates the latest arrivals via a backdrop of clipboards decorated with colourful chalkboard drawings. With a rotating selection of around 20 choices of bud, the store neatly arranges its tightly curated selection of oils, tinctures and accessories on sparsely filled shelves. The worn fir floors offer a sense of warmth and history, blending nicely with the smoke-grey painted wooden desk and small glass display case, all illuminated under steel pendant lights. 109 East Broadway, leavesofzazie.com
Evergreen Cannabis Society
Across town, the husband and wife-owned Evergreen Cannabis Society (inset), launched in 2015, is ingrained with a holistic philosophy that extends to the welcoming vibe of the store. Featuring large floor-to-ceiling windows that openly invite passersby to take a closer look, the store is about to undertake a major aesthetic facelift. Embracing a "West-Coast-meets-B.C.-craft-brewery" design, the space will offer couches for studying or quiet conversation, and showcase original paintings from local artists. 2868 West 4th Ave., evergreencannabissociety.com
The Village Dispensary
Transitioning off the busy street to a peaceful courtyard that leaves the chaos of the city behind, you'll find the Village Dispensary (below), a space consciously designed as a higher-end retail portal, meant to welcome all who stepped within (even if they might confuse the coffee-shop-cool dispensary for a JJ Bean). Brightly lit, the room features many natural elements, including metal, glass, polished blond woods and exposed concrete—a fusion they call "Scandifornian." Some of the store's scattered flashes of colour come from odd bits of jewellery and other baubles that staff and customers have donated to the space, perhaps in reverence for its special place in the community. And with a bold branding upgrade in the works, the store will soon be even more visually pleasing. Inner courtyard, 206–1540 West 2nd Ave., thevillagedispensary.ca
Buddha Barn
Just a few blocks eastbound from Evergreen and up a short flight of stairs, Buddha Barn (below) features ivory walls, clean white floor tiles and sparkling alabaster counters wrapped in rich, natural wood. Together, these features give the whole room a boutique and spa-like feel, allowing its loyal fan base to peruse the latest strains in Zen-like bliss. 2179 West 4th Ave., buddhabarn.ca
Aura Health Studio and Dispensary
Intended to house both a dispensary and a full-service natural health clinic, the dispensary section is all that remains until it too undergoes a full-scale transformation in the coming months. What Aura (below) has going for it is the most attractive and forward-thinking branding in the city. All signs are professionally designed and printed using their singular font, nothing handwritten. To create an experiential environment, customers are invited to open
the display jars themselves if they want
to get a whiff of the fresh bud. Aura's
bold hexagonal logo adorns gift boxes,
water bottles and other ephemera,
making each visit an elevated
experience. 1316 Kingsway, aurahealthstudio.com