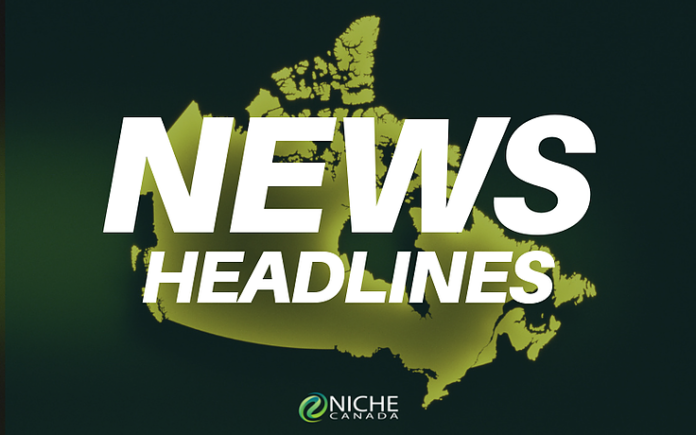 What a year it was! Cannabis topped the news headlines pretty much every week in 2018. Legalization was a political hot potato that dominated conversations at the dinner table, the office and in elected offices across the country. 2018 was truly the year of cannabis, but some stories stood out from the crowd.
Here's a look at NICHE's top ten cannabis stories of 2018:
10. The End of Prohibition
On October 17, 2018, our country became the first industrialized nation in the world to legalize recreational cannabis. The path to legalization was difficult and convoluted and it would have led to a dead end if it were not for a successful Senate Vote. It took six months of debate and discourse, and the passing of some 40 amendments, but the Senate voted to approve the Cannabis Act on June 7, 2018. It was history in the making, as this was the last major legislative hurdle to the legalization of recreational cannabis.
Prohibition might be over, but we need to continue to build bridges through collaboration and cooperation, and continue to have frank and honest discussions about what is working and what needs to be changed.
9. The Year of Data
The federal government proved this year that they are willing to go to great lengths to find out how much cannabis Canadians are consuming. From countless surveys, studies and tracking apps, to testing sewage for traces of THC, never before has our country cared so much about cannabis data.
It's all in an attempt to better understand the frequency of cannabis usage in Canada and to monitor changes in behaviour as a result of legalization. Waste water data is particularly beneficial because these tests will show how much cannabis is actually consumed, while legal sales data will only show how much is bought on the official market.
8. Big Need for Small-Scale Growers
While big cannabis companies and multi-million dollar deals created quite a buzz this year, so did the big need for small-scale growers. Craft growers are the backbone of the industry, but many feared they would be left out of the legal market due to a prohibitive regulatory landscape. In response to this concern and pressure from the cannabis community, Health Canada rolled out a subclass of licenses that are specifically targeted at micro cultivators.
But, small-scale growers have faced a number of roadblocks this year. Issues with licencing and the push for better quality products have sparked important conversations about what kind of industry Canada needs and how micro cultivators will play a key role in helping us achieve these goals.
Small producers are known for growing quality cannabis, and we predict that more Canadian consumers will focus on the need for high quality and detailed product information. More than ever before, consumers are keenly interested in how cannabis products are produced, and in quality attributes such as terpene, cannabinoid and moisture content. For this reason, we expect craft growers to play a bigger role in the market as consumer demand evolves.
7. Pardon Me
Righting the wrongs of the past captured the hearts and minds of Canadians in 2018. There was some relief Some relief this year for the estimated 500,000 Canadians who have a criminal record for possessing cannabis. New legislation allows people who have served their sentences for simple cannabis possession to apply for a pardon without having to wait a specified period or pay a fee.
However, critics and cannabis amnesty advocates argue the move does not go far enough and are urging Ottawa to expunge those criminal records, which legally makes them disappear. They say that legalization is a chance to right the wrongs of the past, and the records need to be erased or they will still impact people's lives.
6. Liberation! of Research
Canada's first academic researcher focused solely on the cannabis started work this year, as did BC's first-ever cannabis professor who will oversee clinical trials of cannabis as an opioid treatment. This is big news for patients and the future of the industry.
Cannabis research has been restricted for many decades because of prohibition and the significant barriers it created. With the barriers now removed, important research into the medical uses of cannabis can be legitimized and advanced.
Canada has the bright minds and the ability to conduct research in all areas of the cannabis sector, which can then be exported to other nations who are looking for leadership. But, this can only happen if governments and industry put their dollars where their promises are.
 
5. Spotlight on Education
For the first time ever, our papers, airwaves and screens contained advertisements that talked about cannabis consumption. While there are regulations preventing companies from advertising their products, many governments and organizations created ads designed to educate and raise awareness about cannabis.
The legalization of non-medical cannabis gives us an opportunity to change how we educate people about cannabis. Thankfully, there are also new resources to help aid the discussion. For example, Canadian Students for Sensible Drug Policy released a toolkit for educating youth. The resource guide includes realistic and evidence-based cannabis education and is a great tool for parents and educators.
We believe that engagement, communication and collaboration will not only build bridges within the industry, it will help reduce the stigma surrounding cannabis. It's only through education and leading by example that we will truly be successful at implementing a legalized cannabis regime.
4. #DontTaxMedicine
From taxing medicine to supply crunches that are leaving patients stranded, there was a renewed focus on cannabis patients in 2018. While medicinal cannabis has been legal for some time in Canada, legalizing recreational cannabis highlighted issues and opportunities in the system.
In our country, all prescription products are exempt from tax. Many argue that the 300,000 patients who have been prescribed cannabis should be treated no different. Unlike other prescriptions, medical cannabis is subject to sales tax, and is now subject to an additional 10-per-cent excise tax, as part of the Cannabis Act. Patients and advocates have fought long and hard this year to level the playing field.
Patients have also been particularly impacted by cannabis shortages, to the point that some are calling it a health crisis. The Government of Canada has stated it hopes producers will prioritize medical sales and many companies have committed to doing so.
 
3. The Power of Local Governments
Never underestimate the power of local governments. From lobbying efforts to zoning roadblocks and retail dead ends, municipalities proved this year that they can have a major impact on the cannabis industry.
We started 2018 with the multi-million dollar question of revenue-sharing. Local governments argued they were on the front lines of legalization and need their fair share of revenue to help pay for extra policing, enforcement and public education costs they will incur. Their efforts paid off.
And, for the past several months, the headline news has been which municipalities will allow cannabis retail stores to operate within their borders – from fear mongering to delayed applications and deferred decisions, it's often been an arduous process.
The situation has given rise to the need for more outreach and education for local governments and communities. For example, small growers say the federal government failed to educate municipalities about new licences and the need to create zoning to support them. As a result, applications are delayed and supply shortages grow.

2. The Ontario Effect
2018 once again showed us how politics changes everything. The June 7, 2018 Ontario election proved to be a pivotal moment for cannabis in Canada's largest province. In a dramatic shift, Ontario's new Premier scrapped the former government's plan for selling cannabis in government-run stores, and instead announced that recreational cannabis will be sold online through the Ontario Cannabis Store website and in private retail stores by April 1, 2019.
More recently, the government announced another significant change in direction. Months after saying it would not cap the number of licences for retail cannabis shops, they reversed course and will now only issue 25 licences by April.

1. Got Cannabis?
Prime Minister Justin Trudeau says the biggest challenge associated with the legalization of cannabis has been the supply shortage.
The cupboards are so bare that some retailers have reduced their operating hours and Alberta has temporarily halted the issuance of new retail licenses due to lack of product. Business anxiously wait for new inventory, while consumers are left high and dry.
Those in the industry had warned that there would be product shortages amid supply chain issues, but the full extent of the problem couldn't be known until sales began. The Prime Minister expects the problem to disappear within a year.

2019: The Evolution of Legalization
2018 was an eventful year and there are clearly issues that still need to be worked out. But, don't forget – legalization is a process that will evolve over time. The regulatory regimes are complex and confusing to some, and there are a multitude of opinions about what should have been done, could have be done and needs to be done.
That's why public education will be critical as we enter the next phase of legalization. NICHE will continue to bridge the knowledge gap and help educate communities, policy makers and other stakeholders about the benefits of cannabis and legalization, while correcting the misinformation that chips away at the accomplishments.
In particular, we need to focus more attention and resources on enhancing cross-cultural education and outreach. Most immigrant groups are not embracing cannabis yet, so it's important to start breaking down stereotypes in these communities.
Public education and communication have always been the foundation for the successful implementation of a legalized cannabis regime.
Cheers to a new year and another chance for Canada to get it right.