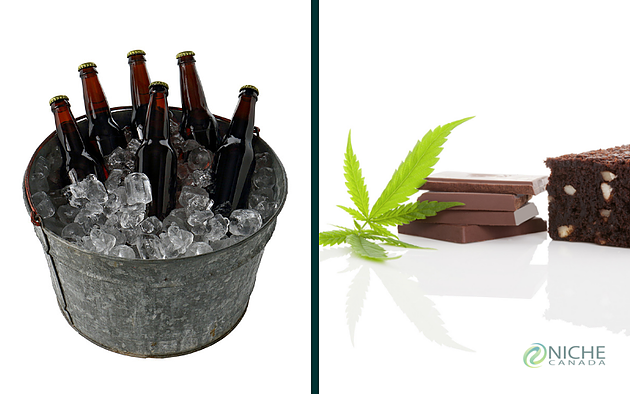 By NICHE Canada
There's no doubt that cannabis edibles will have a considerable impact on the Canadian marketplace, both in terms of regulatory complexity and consumer demand.
According to Deloitte, Canadians are expected to spend as much as $7 billion on legal and illegal cannabis in 2019. And, they predict that nearly 60 per cent of cannabis consumers plan to purchase edibles, in part because they are attractive to non-smokers, come in a variety of tasty treats and offer a discreet way to consume the product.
Research into U.S. markets that have legalized cannabis shows that more than half the overall market is in derivative products, such as edibles, vape pens, concentrates, oral sprays, and other products.
It's critical that the government gets it right when it comes to the rules surrounding edibles, and it's no wonder they chose to delay legalization of these products as they craft the necessary regulations and subsequent public awareness campaigns.
The proposed rules aim to protect public health by having child-resistant and plain packaging that doesn't appeal to youth, as well as labelling requirements, including the standard cannabis symbol, a health warning, and a listing of THC and CBD content. The draft rules also place a hard cap of 10mg of THC per package of product.
But as Jenna Valleriani, Post-Doctoral Fellow in Vancouver (and incoming CEO of NICHE) and Rielle Capler, postdoctoral research fellow at the B.C. Centre on Substance Use outline in their recent article in Huffington Post: Canada needs to settle on a safe standard dose for cannabis edibles.
They ask the million-dollar question – What does 10mg of THC represent to the average cannabis consumer?
They point out that as a society we accept that 12 fluid ounces of regular (five per cent alcohol) beer is a standard drink and this "standard dose" guides people's consumption and helps inform choices around alcohol use.
When it comes to cannabis, Valleriani and Capler suggest that the proposed limit on THC will convey that 10mg is synonymous with a typical serving size or standard dose and perhaps we need to consider if this is sending the right message to consumers?
They argue that instead the standard dose of edible THC should be comparable to the effects of having one drink for most Canadians. They state that "drawing on our experience with cannabis public health research, as well as recommended dosing guidelines for medical cannabis patients, we propose that Canada set a standard dose for ingested cannabis at 2.5mg of THC. Setting a low standard dose ensures Canadians can easily gauge strength: for example, understanding that 15mg of THC is equivalent to six standard doses — comparable to purchasing a six pack of beer."
They point out that with a clear standard dose set appropriately low, coupled with a rigorous education campaign, an individual package could actually contain more than 10mg, striking a balance between safeguarding Canadians and being able to compete with edible products currently available on the unregulated market, which range from 1mg of THC to over 100mg.
They also add that the regulations can also be revisited at a later date, once the policy progresses and science becomes more sophisticated.
By all accounts, 2019 will be another eventful year for cannabis in Canada, as companies and consumers eagerly await the opportunity to bite into the lucrative legal edibles market. The government has said the rules will be enacted no later than October 17, 2019. And, while the new regulatory landscape is yet to be finalized, whatever happens will no doubt help shape the future of the global cannabis industry.