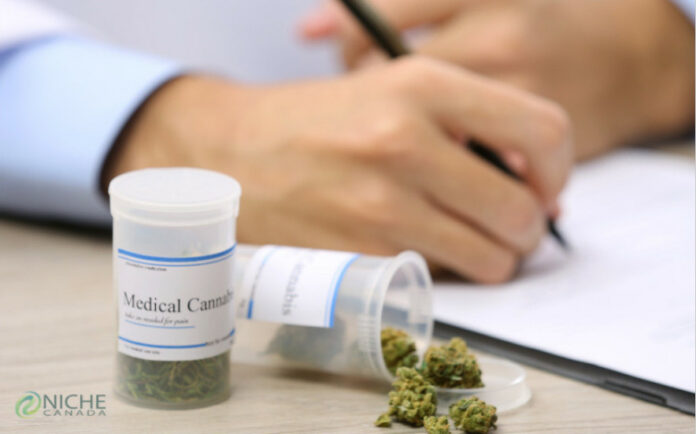 A study examining Canadian employers' understanding of chronic disease's prevalence in the workplace has revealed that nearly half of employers believe medical cannabis should be covered by health benefits, up from 34 per cent in 2018.
The study also found that 64 per cent of employees believe medical cannabis should be covered.
The 22nd edition of "The Sanofi Canada Healthcare Survey" says it has "uncovered gaps in knowledge that can serve to help guide decision-making among employers who provide health benefit plans to employees."
Click here to read the full survey.
"Providers of workplace health benefit plans can use these results to help drive new benefit offerings and wellness initiatives that focus on supporting plan members with chronic disease," says Michael Mullette, President and CEO of Sanofi Canada. "The past few years have seen positive growth in supports for mental health, which can serve as a model for other major chronic conditions such as diabetes and cardiovascular disease."
Dr. Jenna Valleriani – CEO of NICHE Canada and executive director of Hope for Health, the first charity focused on compassionate access to medical cannabis for Canadians – said she advocates for "any straight forward policy that has to do with cannabis" and "insurance is definitely a part of that."
"We're in a really interesting place right now with medical cannabis because we put a lot of pressure on the producers of cannabis to be the one to provide compassionate access, which is not what we do for traditional medicines," she said. "We don't usually rely on the producers of those medications to be the ones to give affordable pricing to direct patients. It just doesn't happen."
"So because, I think, of the lack of insurance coverage around cannabis, we're kind of put in this really weird position where we have this need for ancillary companies that are coming in and doing that in between work," Valleriani noted. "But I was also really intrigued by the high number of folks living with chronic illnesses across Canada as well. I think there needs to be a point where we're trusting health care professionals in positions who are the ones authorizing medical cannabis."
Valleriani said "we need to come to a place and find some way to work around the DIN number."
A DIN number is short for Drug Identification Number, and indicates to insurance providers what a given drug is.
"There are medications that don't have DINs that have been approved by health care providers," she said. "These folks have legitimate needs and symptoms that need to be treated. Patients should have autonomy to choose what's best for them and less harmful for them. We're still in this era where the medical cannabis program is growing and garnering a lot more credibility for its applications in the medical space, but medical users are still met with some resistance or suspicion."
Valleriani also said it's unfair medical users are taxed period, let alone twice, referring to excise and sales taxes that apply to cannabis.
"In Canada, no sales tax is applied to medicine, yet we're double taxing them," she said.
On the bright side, Valleriani said "popular thought around cannabis is really starting to catch up. It's hard to deny its medical ability, especially with scientific research building and anecdotal cases increasing."
Treating more Canadians – particularly seniors – with medical cannabis is something James O'Hara with Canadians for Fair Access to Medical Marijuana is calling for.
O'Hara urges government to see the economic benefits of medical cannabis, pointing to a 2016 study that evaluated the effects of U.S. state medical marijuana laws on the health and labor supply of adults age 51 and older, focusing on those with medical conditions that may respond to cannabis, such as chronic pain and arthritis.
"Older adults have the highest rates of many health conditions for which medical marijuana may be effective in moderating symptoms and are at elevated risk of reducing labor supply due to poor health," notes the abstract of the study, titled The effect of medical marijuana laws on the health and labor supply of older adults: Evidence from the Health and Retirement Study.
"Three principle findings emerge from our analysis," the researchers note. "First, we document that medical marijuana law passage leads to reductions in chronic pain and improvements in self-assessed health among older adults. Second, we show that passage of a state medical marijuana law leads to increases in older adult labor supply, with effects concentrated on the intensive margin. Third, effects are largest among older adults with a health condition that would qualify for legal medical marijuana use under current state laws. Findings highlight the role of health policy in supporting work among older adults."
The study also found that passing of medical marijuana laws "leads to an increase in the probability of full-time employment by 3 percent and weekly hours worked by 3 per cent" for this demographic.
For O'Hara, treating seniors with cannabis is a "win-win-win."
"The older Canadians win because they're getting healthier, working…. They're drawing down on social services less…. And they're much more gainfully employed. I really feel strongly about this. I don't understand why there's not enough traction there," he said.
"I don't think there has ever been a medicine or a therapy that has more positively contributed to the workforce within that demographic than any other," O'Hara added. " I think we should be rushing to (insurance) coverage as opposed to laying back as they are today. The benefits are so, so significant."
The Sanofi survey was conducted online in January 2019.
A total national sample of 1,505 primary holders of group health benefit plans completed the study. The data was statistically weighted to ensure the age, gender and regional composition of the sample reflect those of the adult population according to the 2016 Census data.
This survey was coupled with another online survey of 403 health benefit plan sponsors from across the country, conducted in January 2019. The data was statistically weighted to accurately reflect the geographic distribution of business and business size according to Industry Canada.