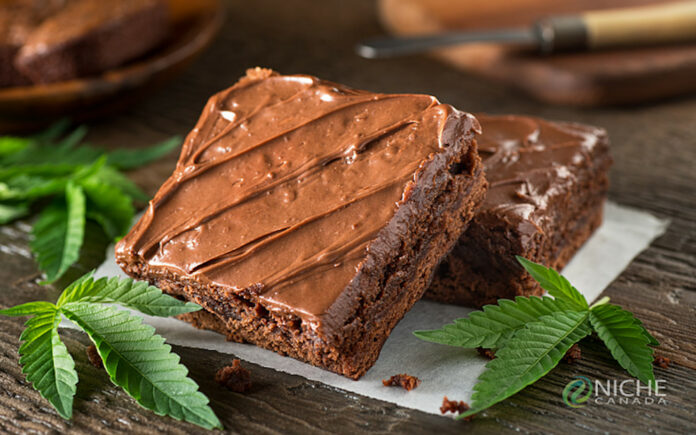 NICHE CANADA
Earlier this month, Health Canada unveiled the long-awaited legislation for cannabis edibles, topicals and extracts. The announcement came with a detailed list of dos and don'ts when it comes to THC limits, rules, packaging, labelling and other conditions.
There is a lot at stake with the second wave of legalization, especially considering the Canadian market for next-generation cannabis products is worth an estimated $2.7 billion annually, with edibles contributing more than half, according to a Deloitte report released earlier this month.
And, while the legislation will be enacted in October, the government says a "limited selection" of products such as edibles will "gradually" hit retail shelves no earlier than mid-December 2019. That's because federally licensed cannabis producers will need time to become familiar with and comply with the new rules to create new product lines, and producers will also need to provide Health Canada with 60 days' notice of new products.
The government's final regulations for edibles set a strict limit of 10 milligrams of THC in a "single-serving" / per package, while concentrates will have a limit of 1,000 milligrams of THC per package. Cannabis topicals, like lotions, balms and oils that are absorbed through the skin usually for pain relief or inflammation will also have a limit of 1,000 milligrams of THC per package.
It is not clear what kinds of treats will be approved for sale in Canada, as the new guidelines are vague, except to say packaging and products cannot be "appealing to a young person."
Cannabis-infused alcoholic beverages and cannabis products containing tobacco, nicotine or caffeine will be prohibited and packaging will be child-resistant, plain, and include mandatory health warnings.
As predicted, there is no shortage of opinions on what the government got right and what needs to be improved. What's clear is that the government is taking a risk-averse stance and most recommendations that were submitted following the release of the draft regulations last year have been overlooked.
Many argue that provisions such as requiring companies to process cannabis-infused products in a separate facility – and build it before applying for a licence, will become a significant barrier for companies wanting to explore the cannabis space and commercialize edibles.
Critics say that making it difficult for legal companies to produce the products that consumers are looking for, combined with tight regulations around potency, will push people to the illicit market.
Despite the unenthusiastic response from consumers, retailers are eager to start selling and already gearing up for the new products. This week, Nova Scotia announced it has tapped the Nova Scotia Liquor Corp. — which already sells dried and fresh cannabis, cannabis oil and cannabis accessories — to sell edibles, extracts and topicals.
Many more of these types of announcements will roll out over the coming weeks and months. Ottawa says it will continue to work closely with the provinces and territories, Indigenous communities, the regulated industry, public health organizations, and law enforcement to support the effective implementation of the amended regulations.
By all accounts, 2020 will be another eventful year and the age of edibles in Canada will no doubt help shape the future of the global cannabis industry.