By Jessica Brown
Amar Singh is a husband, father, homeowner—and he's in startup mode.
"I was never a career entrepreneur," says Singh, who is now two years in as CEO of Elevated Signals, a digital cultivation management system for cannabis licence holders.
Singh has a long history in agriculture prior to partaking in Canada's cannabis green rush.
With a focus on the long-term environmental impact of cannabis, Singh draws on a decade of experience as a student, project manager, and consultant to establish solutions for an emerging market while preparing for the future of agriculture.
"We want to be the tool that's in the day-to-day grower's hand." – @ElevatedSignals' Amar Singh

From record-keeping to crop management to the potential to create the perfect "cannabis" recipe, here's what the software can do.https://t.co/9GlRsD3RfO @GrowTechLabs @NICHECanada

— BotaniQ Magazine (@botaniQmag) March 27, 2019
The Academic
Singh began his studies at the University of Toronto in computer science but felt compelled to transfer to environmental science after his first year, partly due to a travel-heavy childhood that exposed him to beautiful parts of the world juxtaposed by areas experiencing environmental devastation.
After completing his degree at UofT as well as a one-year tech program at the Sheridan Institute of Technology, Singh was recruited as a project manager for the Biotron Experimental Climate Change Research Centre, an initiative built in collaboration with Western University, the University of Guelph, and Agriculture Canada.
The facility, which is on campus at Western, was created to study the impact of climate change by modelling and observing live ecosystems within highly controlled environments.
Singh went on to earn his master's degree in environment and sustainability and Western, worked for 2 years as a sustainable building specialist with Infrastructure Ontario, and then found his way into consulting.
But wait, there's more.
"I wanted to do something more impactful, so I looked at water engineering," says Singh, who enrolled in a Master of Engineering Leadership program at UBC and studied integrated water management combined with MBA courses.
The Entrepreneur
While attending grad school at UBC, Singh joined the e@UBC program, which is aimed at entrepreneurs and startups looking for resources to help get their ideas off the ground.
"I was looking for a project to do in grad school," says Singh, who was nudged into the cannabis industry by his parents.
"My mom sent me a newspaper clipping about Tantalus Labs that was building a massive greenhouse in a residential neighborhood and its citizens were protesting saying that it's draining the aquifer of water," says Singh. "But Tantalus actually uses rainwater capture and is trying to be as sustainable as possible."
Singh reached out to Tantalus about potential water issues but the real opportunity came in creating a solution to monitor plants at a more granular level, and develop more robust record keeping and inventory tracking systems.
"We're not telling growers how to grow," says Singh. "We're providing them with tools to capture data and make sense of it."
After an introduction to co-founders Benn Mapes, Hardeep Shoker, and James Douma, Elevated Signals was born.
"After grad school at UBC I wasn't thinking about a startup," says Singh. "I was going to have a baby, I have a wife, a mortgage, a job to go back to.
"Meeting my co-founders made me believe this was possible."
In Singh's experience, "Vancouver has an amazing ecosystem of people who want to help in the tech startup realm."
The Elevated Signals team got involved with Creative Destruction Lab, a seed-stage program for science-based companies, and is now part of the first cohort at Grow Tech Labs, a cannabis business accelerator based out of Vancouver.
Grow Tech Labs creates global leaders in the #cannabis industry through world-class programs rooted in #innovation. Find out more about their cohort program today! https://t.co/weNIihz6mC pic.twitter.com/SEIgOsszVF

— Victory Square Technologies (@VicSquareTech) December 28, 2018
The Futurist
"There will be rough months and progress isn't always measured by money," says Singh who looks to hitting milestones along the way to stay motivated.
A final tally of $1.2 million for an oversubscribed seed round has certainly been one of those motivating milestones in Elevated Signals' history.
Another milestone has been fulfilling an industry demand, and helping cultivators operate their businesses.
"We feel like we've carved out our niche in Canada given the rigorous Health Canada requirements, coupled with the agricultural monitoring aspect," says Singh.
Singh attributes part of Elevated Signals' success to working closely with industry partners such as Tantalus Labs, BlissCo, and Anandia to carefully analyze what wasn't working with their current systems and to come up with better solutions.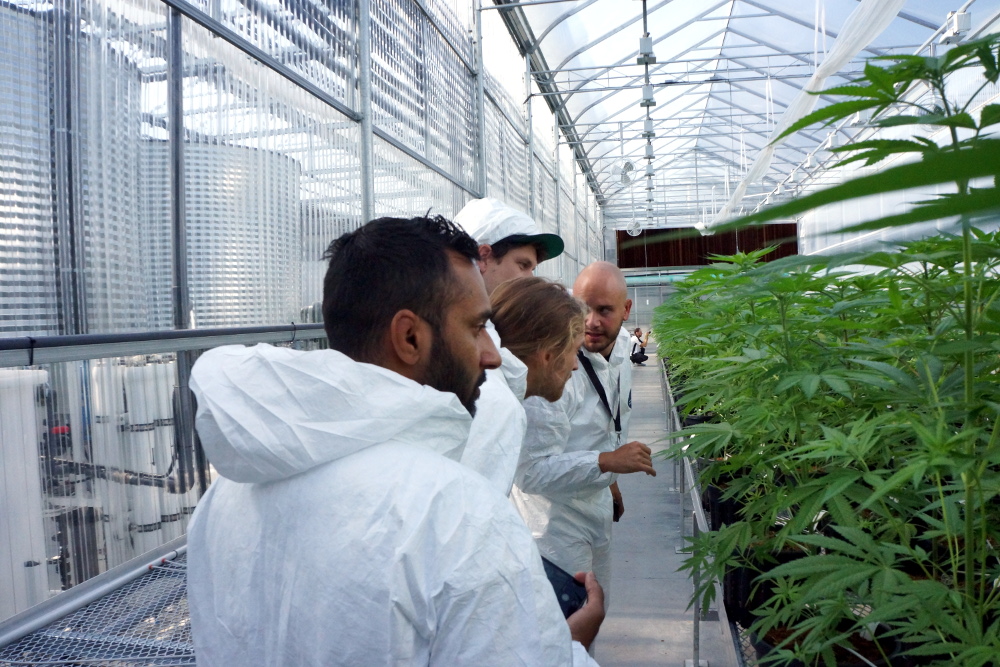 "Traditional agricultural software has presented a lot of issues so producers are eager for alternatives. We have the benefit of being second generation, so we've seen all the problems," says Singh.
"We've been developing this for the past two years which means we're seeing all the latest technologies as well as existing problems and adding in missing tools like digital record-keeping."
Record-keeping was often been done in paper and pen or on whiteboards, which is system that does not lend itself to scalability or compliance burdens.  
While Elevated Signals has been able to learn from the past to help drive cannabis cultivation technology, Singh has his sights set on the future –both in cannabis and the world at large.
"The philosophy of all our founders is very keen on the environment," says Singh.
The evolution of Elevated Signals will be led by data science which will help drive sustainability in the cannabis industry, for example, by helping prevent crop loss.
"What we're focused on now is achieving safety, quality, and trace-ability of a consistent supply of cannabis in the new legal market. That's priority number one and it could take several years," says Singh.
"By tracking the things we're tracking now it's going to lead to a place where cultivators understand the best way to grow crops with the least amount of resources—that's the medium- to long-term goal."
Singh, who started working in crop research 10 years ago, sees cannabis cultivation and the capital flooding the industry as a real opportunity for research and development that will have broader implications for agricultural sustainability.
"The goal is to perfect this technology in cannabis and take that to other crops because food security for humanity is the longer-term goal," says Singh.
Our field deployment of @ArableLabs sensors @CroftonCraft was a resounding success! #agritech #decisionagriculture #agronomy #iot #data https://t.co/zGXGBaUrLw pic.twitter.com/JxLBtQCFRF

— Elevated Signals (@ElevatedSignals) July 19, 2019