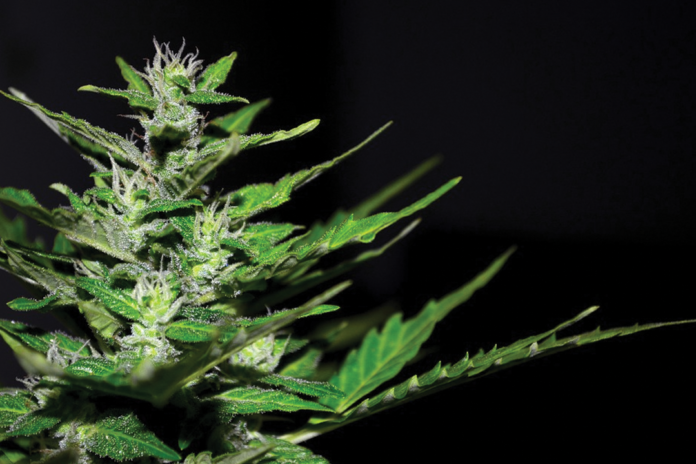 Everett Knight laughs as he reveals he's toured more than 100 cannabis facilities in more than a dozen countries around the globe in his role as EVP of Strategy & Investment at Valens Development.
"I lost count after 100," he says. 
"The space is so new that you almost have to tour it," he tells BotaniQ Magazine. "When I was a small cap investment manager, you're investing in a company that's had operations for 50 years. I didn't really have to go tour it. But in the beginnings of a new industry, it's amazing what you can have insight into from just touring a facility. We've been in a facility, even some of our customers' facilities and it's amazing. You go in there and you're like, 'Wow. These guys know exactly what they're doing.'"
Knight explains his business background includes portfolio management and investment, but that touring cannabis facilities just became a necessity in his new role with Valens. 
Today, the Canadian cannabis company has an extraction capacity to process 425,000 kilograms of product, but tomorrow? Knight says Valens looks to be the largest third-party product development company in the country's cannabis landscape.
"If you look at our platform today, now what we're looking to do is copy and paste around the world and we've started developing those relationships accordingly," he said. "You're going to see operations on the ground internationally in 2019 and global revenue generation in 2020 as we grow."
A look to what's happening around the world is something he keeps his eye on, Knight explains. 
"I am familiar with the European marketplace both from an investment standpoint and as a company. From a federal regulation standpoint, the U.S. is obviously sophisticated but it's really fragmented for each state itself. So when you look at the regulations expand, and medicinal markets whether it's Australia, Germany, or starting to happen in individual companies within the EU, it's rapidly expanding," he says. 
"What I like to say is they're probably four to five years behind where Canada is, or maybe a little bit further in some areas," Knight mused. "But really if you see the medical patient space expanding in places like Germany, you're seeing rapid growth as more and more doctors are prescribing cannabis and more and more studies are being done that show the benefit of this plant. I think Europe in general is a more medicinal based market than you have in other jurisdictions like the U.S. where recreation is now legal in a whole bunch of states. What we're seeing there is a different base, but it's a great base, and I think you're going to see a very different platform five years down the road where you kind of see Canada and other marketplaces five years ago."
Knight said other countries are already looking to Canada as a leader in the industry. 
"They're consulting with our regulatory systems, there are global bodies coming in and touring facilities down here, they're trying to understand the framework. It's already starting," he related. "I think what you're going to see is rapid expansion of medicinal markets in Europe and I think now that we've had legalization of recreational cannabis in Canada, and Uruguay and some states in the U.S., I think you're rapidly going to see social acceptance, especially in more liberal countries in Europe, and I think you're going to see recreational time frames increase and expand as well."
One sector of the industry Knight predicted would take off is the oil derivative market, "because you don't have to smoke it and doctors don't want you to smoke cannabis."
"That's where we based our company on, that extract side, because extraction is key to oil-based products. I think that's the big upside to not just our industry but especially in Europe when we're looking at it more medicinally, you have to have an oil-based product today."
Naturally, Knight said the medicinal side of the market will grow based on research. 
"You really have to inform the doctors on even the research that has been done. It's not that long ago, and medical schools still don't teach a lot of cannabis because there's not a lot of research on it," he said. 
"And so they shouldn't. Because you need those clinical trials to do that. Now that we have that evidence, we should be putting in our overall processes, and studying, for doctors, it just increases the amount. As more and more doctors start prescribing because of this research, it will increase the overall marketplace," Knight related. 
"I've seen stats as much as the global medical market opportunity could be $180 billion annually. So per year, $180 billion. And I think that doesn't even scratch the surface when you look at CBD and wellness products, when you look at vitamin water and overall coconut water and what percentage they are of the overall marketplace, still small, but if you have a CBD beverage market in there, it would be massive if it took off. 
"It just takes time."
Meantime, back in Canada, cannabis companies have recently been putting out their earnings, and Steven Feldman said "most, if not all, have been very disappointing."
Feldman is a cannabis consultant and influencer who runs @CanadaPotStocks on Twitter, a leading authority on cannabis stocks in the country.
"We've seen the equity prices go down because of this," he continued. "I think people are realizing that this is going to take a lot longer to get up and running than what was anticipated. The gravitation from the cannabis user to the legal product will take a while."
Feldman said he also keeps an eye on the international cannabis industry and from his perspective, the push for legalization globally "mostly originated, or was amplified, by Canopy Growth."
"My thoughts are, because Canopy Growth, they're valuation was getting so big at one point that they had to continue to justify their valuation," Feldman said. "Their story grew to beyond Canada to America to Europe then it changed to a global story. I think we're challenged in the global way to do it. This is really being led, I think, more on the business opportunity more than the desire to get rid of criminality of it, or the desire that this is somehow a miracle drug that's going to cure anything. That's where the big push, I think, came from."
"The early movers, who are some of the people who have got into cannabis in America are actually pushing for legalization. They're ex politicians, ex speaker of the house John Boehner, ex canadian PM Brian Mulroney, look how the legalization of recreational cannabis started in Canada, really predominantly a lot of ex-Liberals who saw that Trudeau was going to go ahead with this, got into the cannabis business. So I think that's what's going to drive whatever legalization we see in other countries in terms of the legalization push, will more come form a business angle than from a health and safety and progressive angle. That's my thought."
Having said that, Feldman noted countries around the world are certainly watching Canada and the United States. 
"They're probably watching on what works here, and what's not working, compared to what's working in the states and what's not working," he observed. "Is there going to be a big rush to legalization? I'm not sure about that. I don't know on the global scale because I don't think other countries have had the cannabis culture like Canada and America has. There's been a long established cannabis culture in Canada for a long time…. Now I'm not sure that's the same way in other nations, where their population would be keen to do this. 
"I know France is talking about it and I think one of the ministers says no, we're not going to do it. The UK was at play so a lot of people were talking about it, I know CBD is for sale there. But they've got a lot of other issues there, I don't know that cannabis is making it to the top of the pile," he added. "Certainly I think where U.S. elections go, and if cannabis plays a role in that election, will shape the direction of other places. These are all these kind of wild cards that are out there and I don't think anybody can really nail down 100 per cent what's going to happen. But certainly on the global aspect, the idea of cannabis being legal, regulated and decriminalized – certainly the decriminalized part resonates with people."