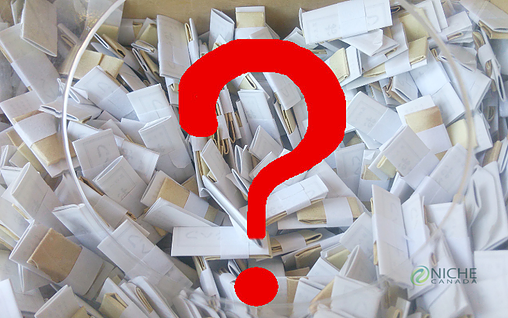 By NICHE CANADA
Everyone loves a lottery, right? They're great when it comes to office pools, charity draws and big cash payouts, but is it the best way to decide who gets to open a cannabis store and where that store will be located?
If Ontario's recent cannabis retail lottery is any indication, it's proven not to be the most logical way to shape a business community.
The Alcohol and Gaming Commission of Ontario (AGCO) announced the results of the province's second cannabis store lottery last week.
The agency said it received some 5,000 eligible expressions of interest, and of those, 42 applicants were randomly selected using a third-party-certified AGCO lottery software program. This doesn't guarantee them a store. Rather, they are now given the opportunity to apply for a retail licence which will then be vetted by the provincial regulator.
SEE ALSO: Cannabis around the world: Where will the global market be in five years?
Many are calling the system unfair and illogical. And, for good reason. Critics say that some people took advantage of the system, entering hundreds of applications and winning several potential licences.
For example, there weren't actually 42 names on the list of winners. That's because a former restaurant in Oshawa appeared twice, and a further three times on the wait list. You might think that was against all odds. But, in fact, it was entered in the lottery a total of 173 times, which would have cost $12,975 in $75 entry fees.
The average winning property was submitted just over 24 times, while the average losing property was submitted just twice. The tactic didn't prove successful for everyone, however, as an address in Thunder Bay only made the wait list after entering 92 times.
To be fair, there were improvements made to the lottery system after the first go-around.
This time, AGCO rules required applicants to secure a retail space in order to qualify. But, as cannabis lawyer Trina Fraser stated, the process could have been much more rigorous: "You could have had some kind of preliminary screening, you could have had various requirements that related to your proposal: what kind of store you wanted to operate, where, how were you going to operate it, who are you, what is your experience, and there could have been a point allocation system assigned to that. That would have been a much more labour-intensive process for the AGCO to go through."
READ ALSO: B.C. puts out call for new cannabis products ahead of edibles legalization
The fact that the notorious CAFE cannabis shop in Toronto was one of the lottery winners showed the true colours of the system. CAFE's illegal operations have been shut down multiple times and police have even resorted to barricading the shops with huge concrete blocks. 
The lottery also failed to take into consideration community and location. The small town of Innisfil, which has a population of around 36,000 people, was awarded three cannabis stores – and they are all located on the same street.
Some Southwestern Ontario communities say they were unfairly left out. Sarnia, Chatham-Kent, Woodstock and Stratford are among the communities that were unsuccessful in the lottery.
As the Mayor of Sarnia put it: "We wouldn't decide not to put any liquor stores into the greater Kingston area. There's equality with the distribution of liquor. It seems there should be equality in the distribution of cannabis."
READ ALSO: Almost five million Canadians report using cannabis, but illegal sales still thriving
As a result, many believe the lottery undermines the goal of legalization and applications and licences should instead be awarded on a merit-based system. They add that the market will remain significantly underserved even after the new outlets open.
The Ford government, however, is defending its cannabis lottery licence system saying the process was fair. That said, perhaps they have seen the error of their ways. The province is now indicating that this may be the last cannabis store lottery.
"In the future, if the government proceeds with additional retail store allocations before moving to an open marketplace, any such allocations may be based on the results from this lottery," AGCO said in a statement.

The applicants from last week's lottery now have until Aug. 28 to complete an application to open a store, which will then be vetted by the province.