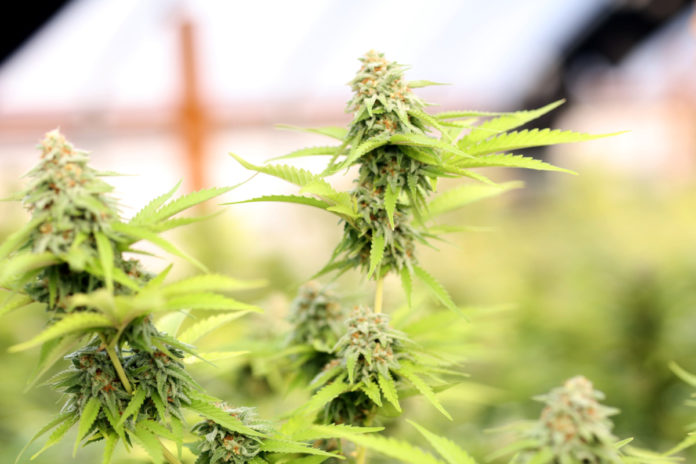 A quick look at some of the news in the cannabis industry last week:
Cannabis company Mojave Jane Brands announced it is entering the market for cannabis-infused beverages by signing a Manufacturing License Agreement with Vancouver-based HAI Beverages Inc. The agreement allows Mojave Jane to exclusively license HAI's proprietary technology for the solubility and bioavailability of THC and CBD components in the State of California. "The Company will use this technology in the formation process of flavorless distillates and concentrates produced specifically for non-alcoholic beverage products as a micro-dosage offering," a release notes. Advantages of HAI's proprietary technology, the company says, is that it "allows the body to absorb THC and CBD components immediately, producing desired effects in a matter of minutes and enabling a much better control of dosages both for wellness and recreational purposes." The company says it also enables precise and predictable dosages. "While producing a similar effect as an alcoholic beverage, a 12 oz micro-dosed drink, for example, can be enjoyed without negative side effects such as feeling hungover, causing liver damage, ingesting empty calories or remaining in the system for extended periods at a time," a release notes, adding that it is neutral in taste for versatile applications.
Harvest One, through its wholly-owned subsidiary Satipharm, bas announced that the "positive results" of a Phase 2 clinical trial of its CBD GelPell® capsules in the management of Treatment Resistant Epilepsy (TRE) have been published in Epilepsy & Behaviour, a bimonthly peer-reviewed medical journal covering behavioral aspects of epilepsy. "The results of our second stage of clinical trials on our Satipharm 50mg CBD GelPell® products are very encouraging for the patients we serve, our shareholders and our company" said Grant Froese, Chief Executive Officer of Harvest One. "We continue to be focused on the best in class health, wellness, and self-care products at Harvest One and we believe that our unique products, including the proprietary GelPell®, will be highly sought after as cannabis legalization takes hold around the world." To read a fulsome description of the study and results visit harvestone.com/portfolio/satipharm/#clinical-trials.
Vapen MJ Ventures (a fully integrated agricultural technology, services and property management company in the regulated cannabis industry) has announced its Vapen CBD subsidiary has executed a strategic partnership with CBD Emporium. "Vapen CBD continues to expand its CBD market penetration with its new strategic partnership with CBD Emporium, the Arizona Headquartered CBD retailer," a release notes. "CBD Emporium provides a broad and deep line of product from the best industry brands and prides itself on offering a highly customer-centric retail experience to guide consumers on their path to health and wellness. CBD Emporium will carry the full-line of Vapen THC-Free, Pharmaceutical Grade, Broad Spectrum CBD Products in all its stores. Products include CBD vape oil, tinctures, edibles, topicals, inhalers and dog treats." Thai Nguyen, Founder and Chief Executive Officer of Vapen MJ Ventures, said the company is "very pleased to partner with CBD Emporium to bring Vapen's high quality, CBD products to their loyal and growing customer base. Consumers associate the CBD Emporium with quality and service."
Extraction tech company Nextleaf Solutions Ltd. has announced the completion of two research and development projects with the National Research Council of Canada's Industrial Research Assistance Program (IRAP), and the Natural Science and Engineering Council (NSERC). "During the yearlong IRAP project, Nextleaf successfully developed a media treatment process to remove undesirable elements such as chlorophyll, carotenoids, and anthocyanins from crude extract," a press release notes. "The project was conducted using common hops (Humulus lupulus), a suitable analog for cannabis as the two are genetically related, and contain a similar pigment and oil profile." The five-person research team – including four PhDs – was led by Nextleaf's Engineering Manager, Krupal Pal, PhD, P.Eng.  "We found unique ways to adapt existing validated technology from complimentary industries such as oenology, as well as drawing on my previous experience in oil and gas refinement" added Dr. Pal. Technology developed during the IRAP-funded R&D project will be applied within Nextleaf's patented extraction process and used in the production of THC and CBD distillates for vapes, edibles, and beverages once legalized in Canada. "Chlorophyll and other pigments can affect the consumer experience in a number of ways, including inferior taste and appearance," said Dr. Pal, "but more importantly chlorophyll can affect the functionality of vape hardware as it has a different temperature tolerance and vaporizes at a different rate compared to THC and CBD."
Namaste Technologies has announced that it has signed a distribution and marketing agreement with Seedo Corp subsidiary Eroll Grow Tech Ltd to market their Seedo home grow ("Seedo") product through the Company's online marketplace. The Seedo products are fully automated home grow devices, providing Namaste's global customer base with the opportunity to enjoy the benefits of growing plants in their own home. "This innovative and ground-breaking product is a great addition to Namaste's marketplace," said Meni Morim, Interim CEO at Namaste Technologies. "Our goal is to create the most unique and personalized experience for users seeking innovative devices, and Seedo's home grow unit is ready for European now and expected to launch on Namaste's Canadian properties very soon."
Shoppers Drug Mart announced the successful completion of Phase 1 of its blockchain-secured pilot program with software partner TruTrace Technologies Inc. "The Pilot Program is specifically designed to increase transparency, interoperability and product identification within the medical cannabis industry," a release notes. Shoppers has now engaged TruTrace and Deloitte Canada to execute Phase 2 of the Pilot Program, with full production and implementation of TruTrace's StrainSecure platform targeted for late November 2019.
The Supreme Cannabis Company has announced the closing of its acquisition of all of the issued and outstanding shares of privately-held Truverra Inc. "The Transaction was completed by way of a three-cornered amalgamation pursuant to which 2708300 Ontario Ltd., a wholly-owned subsidiary of Supreme Cannabis, amalgamated with Truverra to form a newly amalgamated company (Amalco) which shall operate under the name 'Truverra Inc.' as a wholly-owned subsidiary of the Company.  The Transaction was previously announced by Supreme Cannabis on July 17, 2019.
Do you have news you'd like to submit for our weekly roundup? Please email your news release to [email protected].