Being a mom and worrying about health go hand-in-hand. 
"We're always on the go, and a lot of the times you just feel exhausted or overwhelmed. That led me, personally, to exploring the possibilities of CBD," said Crystal Lindsay, one of the three founders of CRYSTEDA Ventures Inc., a CBD water company run by mothers that is preparing to launch its first product line. 
"We started researching CBD and how amazing it was for inflammation, for getting a rested sleep at night and for anxiety and the list just goes on and on and on. We were amazed. At that point there wasn't a whole lot out there on the market. After we started researching more into CBD that's when we found CBD Nano and discovered the benefits of natural terpenes."
Co-founder Danna Sheck began using CBD to help with pain from sports injuries, and found it helped tremendously. 
"I've had five knee surgeries from playing basketball, so I started taking it for inflammation and pain and I loved it," Sheck told BotaniQ Magazine. "Once I started taking CBD I instantly felt relief from my joint pain but I also noticed my anxiety levels going down. It helped me deal with our insanely busy schedule, my kids all play two to three sports each.  So not only did it help me deal with the aches and pains from being an athlete and all the stuff that goes along with getting older but also helped with the everyday stresses that pop up."
Stephanie Pladson, who handles communications and social media for CRYSTEDA, said CBD helps her with her energy levels, as well as with sleep. 
"I have a two-year-old daughter so running around all day with a toddler is very exhausting," she said, laughing. "As well, I used to have an office job so sitting down all day, I had a lot of back pain and inflammation. CBD really helped with that as well, which is one reason you fall in love with it and then it just all came together because we love CBD. And here we are today with all our new products."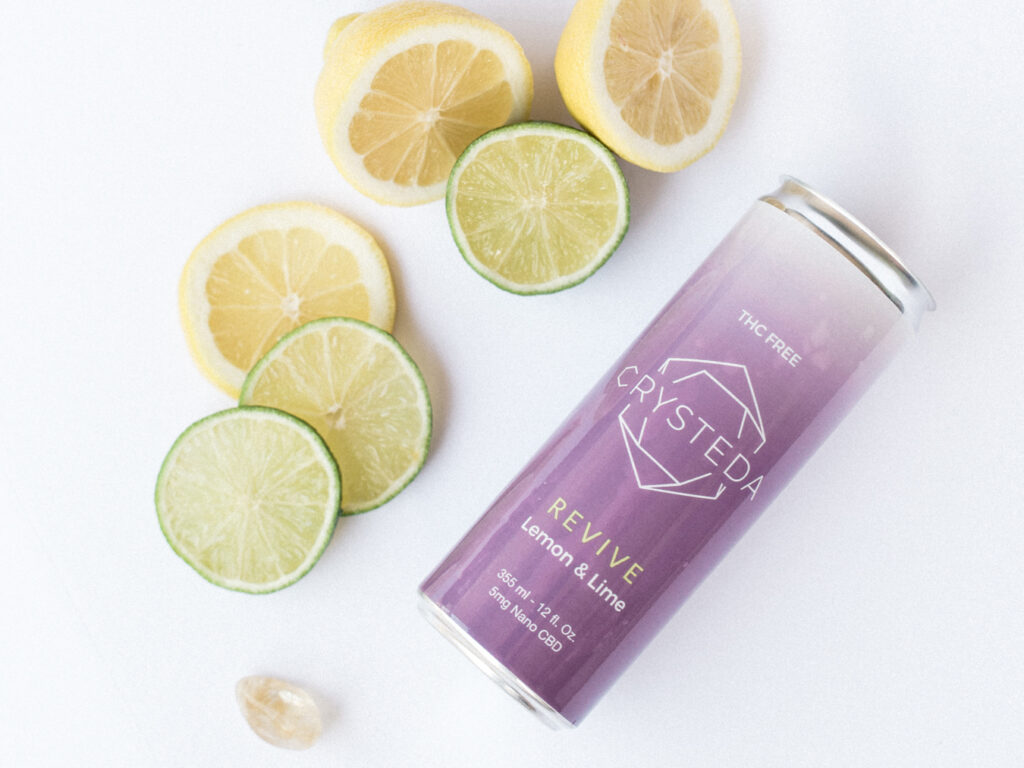 The trio of Vancouver-based moms are preparing to launch a line of CBD-infused products including Premium Nano CBD Water infused with all-natural terpenes, providing full benefits without THC. 
But there's a bit of a hitch that's led to them deciding to launch in the U.S., instead of on home soil. 
"We decided to expand into the U.S. just because right now the regulations are a slow process in Canada," explained Lindsay. "We're basically looking at a year to two years before everything is fully set and ready to go. We've decided to launch in California because down there it's regulated."
"It's really important to us to do this properly," Sheck chimed in. "We would love to be launching our product at home, here in Canada. It really would have been fantastic but unfortunately because the regulations are taking so long, and we want to make sure we do it right, we are going to start it in California where the laws are already set. Hopefully sooner than later we'll bring it back home."
READ ALSO: JOIN THE CBD INITIATIVE: Why is Canada restricting sales of a wellness product to cannabis stores?
CRYSTEDA is set to launch in California this fall, with plans to introduce their product line in early 2020.
Up until this point, the women have been testing their products on friends and acquaintances and have been thrilled with the "amazing feedback."
And it hasn't just been from fellow mothers. 
"We had a gentleman who is a bodybuilder in his 50's and he's never felt better in his life after trying CRYSTEDA," said Sheck. "He's worked out his whole life, aches and pains, and he was back in the gym and hitting it hard again. In all honesty it brings tears to my eyes when we talk about it how much our product has helped the people that have tried it.  One amazing woman was feeling overwhelmed with kids, work, etc, she tried our water and it helped her and said it was life-changing for her. That is the reason why we're doing this. Everyone deals with the aches and pain, fatigue, anxiety, and just the craziness of life. Why not try something natural?"
And, the company will have an environmental focus, straight out of the gate, Lindsay explained.
"We all have kids, and Danna and I having older children, they're very conscious with what's happening to our planet and they know that it is time to make a change," she said. "We started researching and fell in love with cans. It's going to help us reduce our carbon footprint and we're really excited to be able to provide an alternative to plastic," she explained. 
CRYSTEDA is in talks with environmental charities, and the team is excited to be launching with "aluminum, not plastic."
Meantime, it was revealed this week that CRYSTEDA has been chosen by cannabis business accelerator Grow Tech Labs to be its latest cohort. 
"We are very excited to have CRYSTEDA join the Grow Tech Labs family," said Barinder Rasode, Co-Founder and CEO of GTL, in a release announcing the partnership. "Led by three women, all mothers, CRYSTEDA is a shining example of companies Grow Tech Labs aims to support in B.C.'s blossoming cannabis industry. We are thrilled to be able to contribute to their growth and work to expedite the release of their products to the market."
CRYSTEDA will join GTL's Acceleration Program, which features a self-directed model that provides innovators and entrepreneurs with a clear roadmap to achieving their growth goals, receiving funding along the way.
The woman are thrilled to have been chosen.
"Teamwork is the secret that makes common people achieve uncommon results," said Lindsay. "With our partnership with Grow Tech Labs we are growing quickly and achieve our goals at a much faster rate. We truly feel as if we have created a dream team."
Click here to learn more about CRYSTEDA. Twitter: @Crysteda
The first event of The Discovery Series is The CBD Initiative hosted in collaboration with @calyxwellness this Monday evening after the @IntlCBC! RSVP to [email protected] to attend. pic.twitter.com/QZUZBCTKKl

— Grow Tech Labs (@GrowTechLabs) September 11, 2019