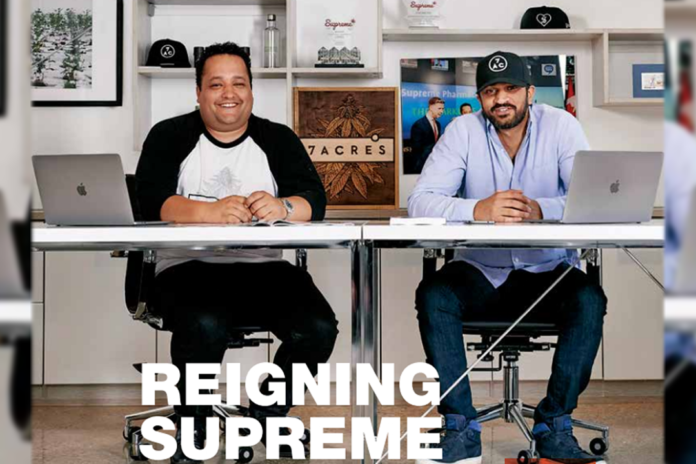 "Our mission is to turn our passion for the plant into a thriving business that produces high-quality cannabis at a commercial scale."
As a budding lawyer at the University of Ottawa, John Fowler's passion for cannabis was often met with curiosity, derision and suspicion. But in the years since his time at law school, Canada's stance on cannabis has changed immensely. Today, Canada is a global leader in commercial medical cannabis and soon to become the first G7 nation to legalize recreational cannabis—and Fowler's passion is now met with interest, excitement, and investment.
Fowler's story mirrors the evolution of the nation's cannabis debate, which has moved from the backroom to the courtroom to the boardroom, as the process to legalize cannabis in Canada gathers steam.
In a fast growing multi-billion-dollar Canadian industry that has been primarily shaped by the courts, Fowler's pedigree as a patient rights advocate, lawyer and cannabis cultivator, is a rarity. Those qualities gave birth to 7ACRES, a cultivation-focused Licensed Producer of cannabis with a state of the art, cultivation facility in Kincardine, Ontario on the shores of Lake Huron, about 225 km northwest of Toronto.
"Our mission is to turn our passion for the plant into a thriving business that produces high-quality cannabis at a commercial scale," says Fowler, the CEO of Supreme Pharmaceuticals, which owns and operates 7ACRES. The facility spans more than six football fields and utilizes hybridized, modular greenhouse technology to maintain quality as the operation scales. "By combining the best practices of indoor cultivation with the natural power of the sun, we get indoor-quality buds with sun-grown quality characteristics," Fowler explains. "Sun-Grown" cannabis has developed a strong demand and following. 7ACRES is a business-to-business focused Licensed Producer, selling bulk cannabis to legal retailers for resale to the medical industry, and in the future, recreational consumers. All cannabis produced by 7ACRES will be resold with producer's mark indicating it as "Sun-Grown by 7ACRES." "Think of it like 'Intel Inside' for the cannabis industry where our mark is a symbol of quality," states Fowler."Focusing on cultivation allows us to develop proprietary value by building the infrastructure, management systems and expertise needed to scale cultivation in a regulated industry. The intellectual property and expertise we develop in Kincardine can be deployed domestically and abroad. Distribution and retail will always be geocentric but cultivation can be standardized, exported and adjusted for environmental factors globally."
Like all things botanical, you reap what you sow. To ensure integrity of cultivation, Supreme established an alliance with top international cannabis seed developer Dinafem Seeds. Since 2002, Dinafem has worked to develop an extensive library of sativa, indica, hybrid and CBD-based genetics. It has also pioneered the research and development of feminized and auto-flowering cannabis seeds. "It is critical to start from seed to ensure our plants are ideally suited to our hybrid facility and our business objectives," says Fowler, who, at 29, is one of the youngest CEO's in the cannabis industry.
Fowler's long-term goals for the company are guided by a clear vision to lead and innovate with a talent pool that is young and enterprising. For financier Navdeep Dhaliwal, a Chartered Accountant by training, the cannabis industry is an ideal industry to make a positive social impact globally and turn passion into profit.
With an extensive background in Capital Markets, Venture Capital and international growth of new ventures, Dhaliwal, 36, is the president of Supreme. He believes there is an unprecedented opportunity for Canadian cannabis companies to become global leaders given the significant advantage they have operating in a Federally legal jurisdiction and access to capital.
"While there is a lot of excitement in the cannabis market there is often a lack of focus on long term value creation. The emergence of a recreational market is a windfall opportunity for Supreme. But our focus is building proprietary value, or a 'moat' as Warren Buffett puts it, to make us competitive in the long run," says Dhaliwal. "Our focus is producing high quality cannabis and maintaining quality as we scale over multiple acres. Our goal is to become the top high-end cultivator in Canada and replicate that globally." Supreme is expecting to invest significantly over the next two years in both hiring and construction, to see the 7ACRES facility in Kincardine fully built out by 2019. At full capacity with upwards of 300 employees the facility's production will skyrocket to about 1,000 kilograms per week in 30 grow rooms, which amounts to approximately $200 million to $300 million in revenue from just the first facility.
"Regardless of whether you're a medical user or a recreational user, the quality of the product is what matters," says Dhaliwal. "Our brand is built on quality. We want our producer's mark to mean something to the consumer, to be a statement of quality. We believe this is a profitable philosophy for Supreme and our retail and distribution partners."
Writing in the Financial Post, James West of the Midas Letter (which has been covering the best of Canadian publicly traded and private companies for over 30 years), described Supreme as one of the best-run, fastest-growing marijuana stories in Canada. "I've been following all of the marijuana companies since the launch of ACMPR rules and I believe that Supreme is, at this point, the best horse in the race," West concluded.
Barinder Rasode, the executive director of the National Institute of Cannabis Health and Education (NICHE) hailed Supreme's commitment to develop a cultivation protocol that could help establish standards in the industry. "We need to build a reputation for quality and best practices alongside a well-regulated environment to position Canadian producers, both big and small, as the best in the world," says Rasode. "As such, we need the sharing of research and best practices developed by companies like Supreme to help all levels of government create a safe and successful cannabis industry in Canada."