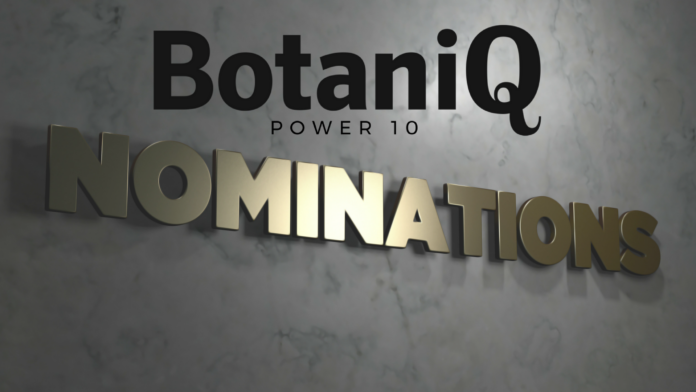 UPDATE: Submissions have now closed. We had more than 1,000 nominations! Thanks to all who participated and finalists will be announced in early September.
Do you know a power player in Canada's cannabis scene?
Botaniq Magazine seeks your help to find the Power 10 of the Canadian Cannabis Industry
for 2018. That's right – we need your nominations to uncover the Top 10 leaders, across
10 categories, in the Canadian cannabis industry!
The full list will be published in the Fall 2018 issue of Botaniq. The top nomination-getter in
each category will be highlighted as part of our Botaniq Power 10 special feature.
Please add your selection to as many categories as you please. You don't have to complete
all the choices or categories. Only one survey per person is permitted. Plus it only takes 5 to
10 minutes of your time to complete the entire survey.
Nominations close on Friday, August 10 at 11:59 p.m.
The categories are:
Founder – Who do you consider to be the 'Founder' of the Canadian cannabis industry?
Innovator – Who is the biggest 'Innovator' to the Canadian cannabis industry?
Cultivator – Name the 'Cultivator' of the year in our industry.
Philanthropist – Who has given the most to our industry and the communities in which he or she serves?
Under 30 – Who are the young guns to watch for in our industry?
Scientist – Who do you consider to be the maddest 'Scientist' in the Canadian cannabis sector?
Influencer – Which social media, spokesperson, journalist that is influencing the industry?
Disrupter – Who is the game changer in our local industry?
Educator – Who is leading the transformation of next generation leaders in our industry?
Politician – Which politician (Federal, Provincial, Municipal) has affected change the most in the political realm?
Click here for more information, and to submit nominations.