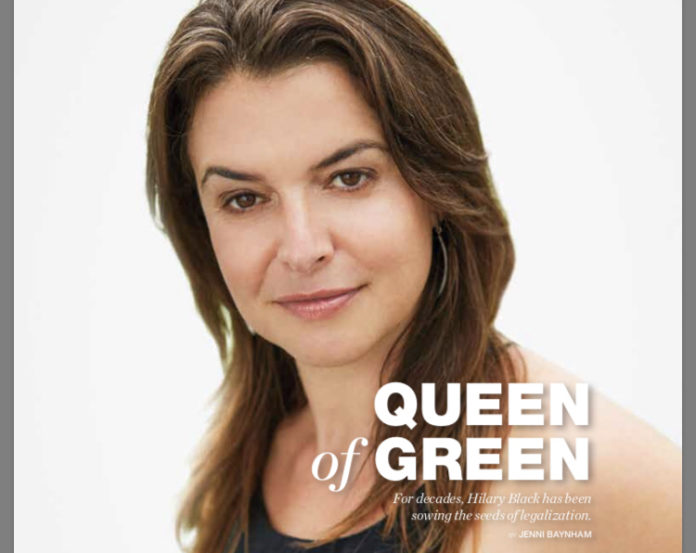 For decades, Hilary Black has been sowing the seeds of legalization.
Story by JENNI BAYNHA
Do you remember the first-ever dispensary in Vancouver?
Hilary Black does, because she opened it.
Her story started with her work for the first medical cannabis organization in the country; she would then go on to spend the next two decades fighting the stigma surrounding cannabis, breaking barriers for patients and fuelling a movement that would eventually turn into an industry.
Today, Black holds the role of director of patient education and advocacy for Canopy Growth, the first publicly traded cannabis company in North America, as well as continuing to run the BC Compassion Club (which she founded in 1997), the oldest and largest medical cannabis dispensary in Canada, which also operates a community- focused Wellness Centre.
Of the 225,000 registered medical cannabis patients in Canada, Canopy serves 70,000, meaning Black has a lot of medical cannabis users depending on her to represent their patient needs—a sector of people she successfully demanded the government consult with before considering the legalization of cannabis.
"There are patients who can't eat after chemotherapy or who struggle with the side effects of their opiate medications, but the government was speaking only with the First Nations community and at-risk youth," explains Black. "We successfully managed to have patients' opinions taken into consideration, but we haven't even begun to have [the government] remove GST from prescription cannabis—don't even get me started on that."
Black thinks of the recent cannabis legislation as version 1.0.
"Health Canada has done an amazing job at what I think of as threading the needle," she says, "but I think in five years we will have an entirely new set of laws."
See also: Cannabis legalization in Canada: The highs and lows of week one
Black's incomparable knowledge of the industry has made her an essential character in the legislation process as she spearheads the shift from a previously criminalized activity to a new, taxable industry that might benefit Canada's growth as a whole.
"The biggest change is that suppliers will now be required to buy their stock from a registered producer instead of the 'grey' market," explains Black. "I like to say grey market rather than black market, as the latter conjures images of organized crime and violence."
What's next for Black on her crusade?
Well, Canada is just the beginning.
"When I think about the harm prohibition does: it puts people in cages—we put them in jail, they can't travel, they can't get a job; in America, your kids might even get taken away. It simply astounds me that people's lives are ruined over a plant. The impacts of prohibition are devastating, so the impacts of global education are imperative."
This story originally appeared in the BotaniQ Magazine's print publication. Click here to download and read the whole issue.