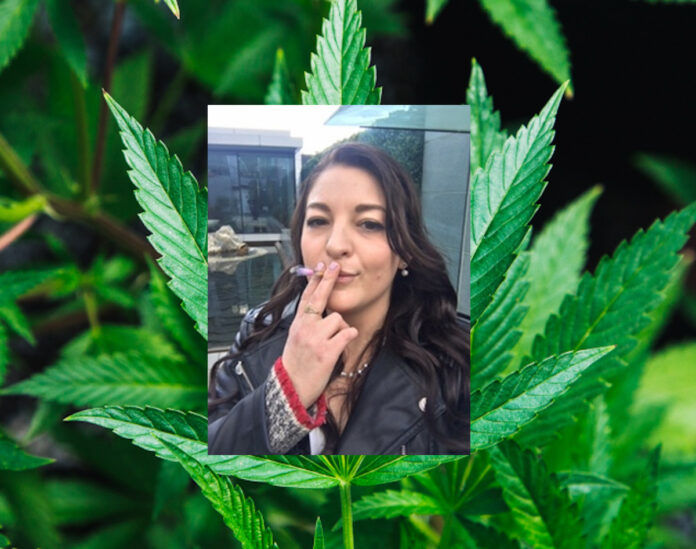 If you ask Danielle Mcinnis – aka Moms Who Toke Are Dope – "weed mom is the new wine mom."
"There's a whole, huge social influence happening where moms are just coming out of the closet now and repping the cannabis, all of the medicinal uses, because it's not just for recreational. There's a ton of medicinal properties involved. Especially, as a parent, who else needs stress relief more than a parent?" she laughed during an interview with BotaniQ Magazine. 
Mcinnis, who has been a medicinal cannabis user for 16 years, took to Twitter as "Moms Who Toke Are Dope" in 2017 to "talk about life as a mom."
But that came after hiding in the background for many years due to the stereotypes and stigmas surrounding cannabis use, even if it was medicinal. 
"I always kind of lived in the shadows just because we had a family, a child, it wasn't safe for me to voice my opinions around the stigmas surrounding parents back then," she said.
Mcinnis said it felt good to take to social media and "come out of the cannabis closet" as a medical cannabis user.
I am a mother who consumes Cannabis most days for medical reasons.
This does not make me a "stoner" or a bad mother.
My family takes priority over my medication.
Weed is my medicine, and is a plant that I respect, it is not a "drug" to me.

— moms.who.toke.are.dope (@DanielleMc420) July 23, 2019
"I've heard from parents all over the world, I get multiple direct messages from parents who I've inspired, who I give hope to, who thought they were alone," she said of her social media advocacy.
"I've cried over some messages I've gotten from parents who've struggled and have lived through what I've lived through. It gives me hope and it makes me want to continue this all the more to continue helping people. It's funny, we all are given a purpose in life and when I was born I knew I was here to help people. I've always been into reiki and healing but I never got too far with it because I'm really bad with taking in other people's energy. I feel like this is my calling, because cannabis I've been using now for 16 years. I've always loved the plant, respected the plant. Even when it was illegal."
Mcinnis said she's now seeing more parents talk publicly about their cannabis use.
And it seems, in the United States, parents are becoming a significant consumer base. Retail data out of the U.S. found that sales of cannabis products spiked over the Mother's Day and Father's Day weekends in 2019, reports Mjbiizdaily.com, "highlighting differences in gender-based cannabis gift-giving in states that have legalized adult use."
The publication reported that "data from Seattle-based analytics firm Headset shows that sales increased 35% to 80% in several product segments over Father's Day and Mother's Day weekends in California, Colorado, Nevada and Washington state, with different categories spiking across the two holidays" and that "total cannabis spending in these four markets was $50 million over Father's Day weekend, compared with $46 million over Mother's Day weekend."
Mcinnis said she sees a shift in acceptance of cannabis among parents here in Canada, too, but said it still "depends on the person."
"If they were a user beforehand they're still going to be a user after as a parent. There are a ton of new parents, new users and consumers, flocking to it before because it was illegal. That was the deal-breaker," she said. "You have to really take that into account. There's a ton of parents who are switching over because there are no benefits to alcohol. There's the one glass of red wine day helps your heart but other than that, there's weight gain, there's organ failure, drunk driving, alcoholism, there's deaths per year. So many things that are just negatives about alcohol.
"And sure, a glass of wine is great but it can affect you more than just a toke," Mcinnis continued.
"After a toke, personally, I feel more energized, more spiritual, more creative. I've had my therapy session and I'm ready now to sit through an episode of Dora the Explorer. Not only does it save lives, not only are there no deaths – recorded yet – because of cannabis, I feel we're going to continue to see a huge flux of parents swarming to it over alcohol. Plus no hangover," she laughed. 
Pass Joints Not Judgement https://t.co/siV7wfNGPN

Amazing write up on why people should not judge moms who toke!

— moms.who.toke.are.dope (@DanielleMc420) July 18, 2019
Mcinnis said she's "happy to be on the green train."
She also uses cannabis to treat her Ehlers–Danlos syndrome, a rare genetic disorder.
"And I can't actually take pharmaceuticals that well, I've not always been able to swallow pills, I've always been a natural person, so I've used like willow bark for aspirin. The only time I went on real pharmaceuticals was when I went on – after I had my child – I went on antidepressants for two years and cannabis helped me come off of that. I was a zombie, I was not a present mom. I wouldn't say I was a bad parent but I would say I just wasn't the best I could be. Cannabis definitely helped me get away from that and become a more fun, present parent."
Mcinnis said there's still a "huge, huge way to go" in gaining societal acceptance of cannabis.
"I went to a birthday party last week for my daughter and you usually don't bring it up at other peoples' kids birthday parties but it got brought up what I did so I didn't want to lie and it got well received but the girls were making jokes about it. It almost ended up coming back to the stoner jokes, I was getting thrown under the bus. I thought, 'you know, this is funny and all, and I get it.' I liked that they were coming from that perspective and not a negative perspective. I had fun with it but I was still a bit hurt… it's just adding to the stigma.
"Hopefully through educating and some of my advocacy, I'm going to change some of that."
Later this year, Mcinnis plans to launch a website, www.cannaparents.ca, to help educate parents, and people about cannabis.