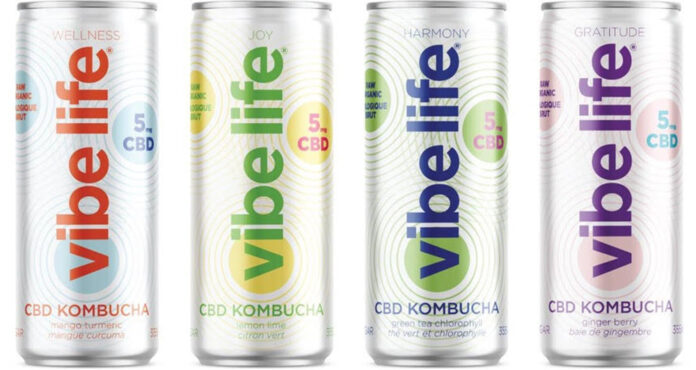 If you ask Dominica Bay how she first stumbled across kombucha, you'll discover she simply picked one up at a Whole Foods in Miami during a stopover on a cruise ship she was working on.
But, as she'd later learn, it was serendipitous she selected that beverage.
At that point in her life, Bay was a Cruise Director which is best described as being the "hostess with the mostest."
Due to multiple traumas in her life – not the least of which was a violent sexual assault at the age of 14, followed by the loss of a brother to Post-Traumatic Stress Disorder – she turned to the bottle.
Although an extrovert, her trauma caused her to develop social anxiety and she was also diagnosed with PTSD often struggling with panic attacks, flashbacks and chronic nightmares.
Alcohol became all too close a friend.
"It took the edge off, and I became a party girl. That went on from when I was 14 to about 10 years ago. I drank enough to light up a football field," said Bay, a vegan Vancouverite who founded Vibe Life Inc. that produces a line of kombucha beverages. "It has not been a cakewalk. Let me tell you. But I've come out the other side and I'm here to tell it."
Her healing journey began when she decided to get sober roughly a decade ago. As she puts it, she "traded her booze for booch" when she agreed to join one of her brothers in his efforts to stay sober.
Kombucha, she said, "just hit the spot for me."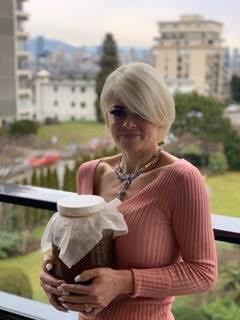 "It makes me calm and makes me relax. It fits that bill for when I want something after a long day or socializing. It's just better than alcohol. It's a serious love affair," she laughed during an interview with BotaniQ Magazine. "I felt massive relief from my IBS and digestion, I felt way more energized, happy and focused."
Many kombucha products had relatively low sugar counts at the time, but Bay said that changed in 2013, when fermentation laws changed in the U.S.
"So my beloved booch that used to be four grams of sugar was now 12 – so three times the amount."
That set her off on a journey to make her own – determined to produce a healthier product with a dramatically lower sugar count.
And she did just that.
She and her partner are introducing the first line of kombucha in Canada with no added sugar. With less than one gram of naturally occurring sugar and only 10-15 calories the beverages are flavoured with organic fermented botanicals such as; holy basil, turmeric, lemongrass, milk thistle, peppermint, ashwagandha and ginger.
With less than one gram of naturally occurring sugar, the beverages are flavoured with organic fermented botanicals. #cbdkombucha #nosugar @vibelifebooch https://t.co/RXT7BD3euz pic.twitter.com/DdsUu2G2HB

— Grow Tech Labs (@GrowTechLabs) October 4, 2019
Bay said she's helped countless clients get sober with her "booze for booch" program she offers within her plant-based coaching practice.
"I knew that I could make it essentially sugar-free," she said. "I love it because it's alive and offers natural enzymes, probiotics, antioxidants and all these wonderful things going on with your gut. But you know, a lot of my clients are busy, working parents and don't have the time to make kombucha themselves so it will be a great solution for them to stay on track with their health and fitness goals."
Bay makes her beverages using cold-pressed, low sugar organic juices to ensure calorie, carb and sugar counts remain low.
"We will be the first kombucha that is diabetic friendly and certified for keto, paleo, Whole30 and bulletproof diets," she explained. "Right now it's a grey area because people know of the amazing benefits of kombucha, but a lot of the commercial ones are too high in sugar to fit within that lifestyle, that nutrition plan."
And next year, Bay is set to launch a line of her kombucha beverages infused with CBD after falling in love with the therapeutic benefits she reaped when using the two products together.
After an unsuccessful attempt to treat her symptoms with anti-anxiety medication, her doctor suggested CBD. Bay said she was the most unlikely candidate to CBD, let alone endorse a cannabis-related product, given she'd had a terrible experience when smoking cannabis as a teen.
But she said "a fog just lifted and she awoke" when she started adding CBD to her kombucha as the ultimate nightcap.
"Now I take it religiously every night," she remarked. "I noticed these incredible benefits and most importantly, how it helped with anxiety, depression, and sleeping through the night. I feel so much better, and the added benefit was I wasn't as sore after workouts, it improved my performance at yoga, I ran faster without even trying."
READ ALSO: Canadian moms to launch 'CRYSTEDA' CBD water line – but not on home soil
Bay said for the first time since being raped at the young age of 14, vivid flashbacks and chronic nightmares subsided.
"The fear of another attack is always there, however I don't have to fight as hard to remain strong and calm in social settings, parkades, stairwells, corridors, and elevators that make me very anxious and trigger panic attacks," she said.
After seeing the tremendous benefits first-hand, Bay felt compelled to share CBD with the world, and got to work on creating her own kombucha line incorporating it.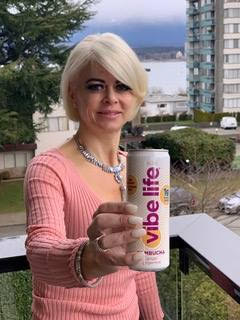 "It's the ultimate social sipper," she laughed. "It's giving people an alternative to alcohol that makes you feel, in my opinion, even better. After all, who has time for a hangover? And every ingredient in there is specifically designed to help people be calm, be peaceful, reduce stress and they're also fat burners."
While bringing wellness to the world is top of mind for Bay, she has a particular focus on helping victims of trauma, given her past.
"After sexual assault you just never see the world the same so Vibe Life is a survival tool to help you cope and carry on," she explained. "My number-one priority with Vibe Life is to be able to give hope to other sexual assault and PTSD survivors. People underestimate the power of a plant based diet and active lifestyle. It can make such a big difference in your recovery and quality of life."
"If I can give one victim hope proving 'CBD will set you free' and help one sister save her brother's life it's worth it," she said.
Vibe Life Inc. has recently been announced as the latest consumable cohort company to join Grow Tech Labs' accelerator program.
With the help of Grow Tech Labs, they will be launching their hemp-derived CBD line of kombucha in 2020. It's the only kombucha that uses fermented hemp and fermented stevia, a process that took more than one year of research.
"Kombucha got me sober, CBD saved my life and Grow Tech Labs resurrected my soul," said Bay, adding that she's thrilled to have been selected as a cohort by the business accelerator to help expedite her products to market.
Bay's mission is to help "heal humanity and the planet one sip at a time."
Click here to learn more about Vibe Life Inc or visit Vibe Life Kombucha on Facebook.