For the fourth year in a row, the Cannabis Hemp Conference and Expo returns to Vancouver this September – just two weeks before legalization.
Billed as the "largest and most comprehensive cannabis conference in Canada," the event will feature more than 40 speakers, 35 exhibitors and six live workshops. 
"Going into its 4th year, the Cannabis Hemp Conference and Expo, presented by Agrima Botanicals, is a critical forum for exploring current and future uses of cannabis and other plant-based medicines," notes a media release.
Organizers say the conference is "unlike any other and provides the latest information on cutting-edge research and therapeutic treatments of Cannabis."
The conference will feature presentations by national and international experts on the practical, therapeutic, medicinal and environmental uses of Cannabis; patient access and support; quality assurance; Cannabis genetics; extraction; legalization; public policy and research.
Click here to see the list of speakers.
See also: New study exploring effects of CBD for chronic pain, anxiety, depression
"With Canada's Federal Government set to legalize Cannabis on a national level on Oct. 17, 2018, we want you to be a part of this ground-breaking year for the annual Cannabis Hemp Conference and Expo," states a release. "All eyes will be on Canada, and specifically Vancouver, as Canada positions itself as a leader in Cannabis research and health advancements."
The event – which is expected to draw more than 700 attendees – will run from Friday, Sept. 28 to Sunday, Sept. 30.
On Friday and Saturday, the two-day conference will be held at the Chan Centre for Performing Arts (at UBC, 6265 Crescent Rd).
The Sunday expo and live workshops will be held at The Nest (also at UBC, 6133 University Blvd).
For more information, and to register, visit cannabishempconference.com.
Organizers also note the event is "committed to philanthropic causes both within Canada and across the world."
A release says a percentage of ticket proceeds will be donated to support the protection of the Amazon rain forest, Indigenous rights and wisdom, and the Cannabis Substitution Project as an alternative to opioids and ayahuasca sustainability.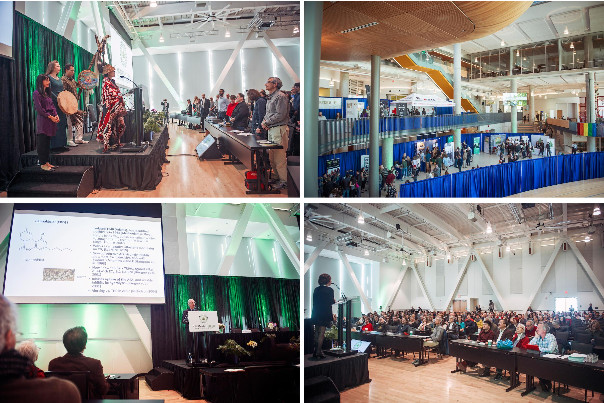 (Photos from last year's conference.)