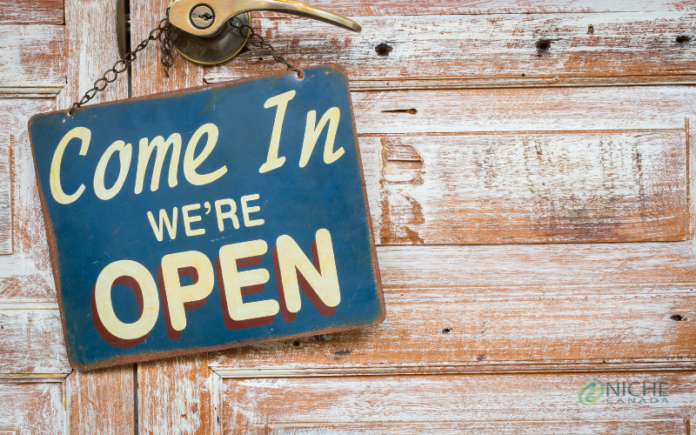 By NICHE Canada
After months of speculation and anticipation, Canada's largest province opened its doors to legal cannabis retail stores on April 1.
Ten stores were given the green light to open – three in Ottawa, two in Kingston and one each in Toronto, Brampton, Burlington, London and St. Catharines.
And while 10 falls considerably short of the 25 stores the provincial government said would open, the initial results were impressive.
Seven stores that opened recorded an average of $50,913 in sales and 867 transactions on their first day of business, according to Cova, which provided an aggregate sales figure for the retail stores that use their software
That compares to an average of $4,976 sales per day per store and 111 average transactions over the first quarter of this year in the rest of Canada's legal pot dispensaries that Cova tracks
In Toronto, the store manager of the only legal cannabis store to open in Canada's biggest city said the shop had about 800 transactions in the first three hours of business on opening day. That said, most predict the Ontario numbers will fall inline with the rest of Canada once normalcy sets in
Despite the strong initial sales, experts don't predict that Ontario's new legal marketplace will make much of a dent in the illicit market, mainly due to cost, product quality and a lack of product options available in the brick-and-mortar stores.
According to a crowdsourcing project by Statistics Canada, legal cannabis at the end of 2018 cost nearly 50 per cent more than illicit cannabis — $9.70 per gram versus $6.51.
One of the biggest challenges of the week, however, didn't have anything to do with price, supply or long line-ups.
It had to do with accessibility. Several of the new stores were missing something many medical cannabis users need: accessibility ramps.
And, while the shops say they will work with their municipalities to correct the error, it definitely raised questions and concerns from the cannabis community about whether customer focus will be a priority.
The delay of Ontario stores opening in the rest of the province has been blamed on regulatory and licensing issues. But many cities and towns will never see a single cannabis shop. The province has more than 400 municipalities, 77 of which decided to prohibit retail cannabis stores. These included large centres like Mississauga, Markham, Oakville, Pickering, Richmond Hill and Vaughan.
The Ford government has said it will lift the 25 licence cap once the cannabis supply stabilizes, but has not said how many stores the province will allow. And, they have not set a timeline as to when the cap will be lifted.
Given the fact that statistics from Health Canada point to a robust national supply – nearly 19 times larger than total sales – it doesn't appear that we're getting the full story about the reasons behind the cap.
Since opening day, two more Ontario cannabis stores received authorization to open from the provincial regulator. Shops in London, Ontario and Toronto's Yorkville neighbourhood were cleared to commence cannabis sales, and the second Toronto location opened this past weekend.
The province has pledged $40 million over two years to help local governments with the costs of legalization. And, if Ontario's portion of the federal excise tax on recreational marijuana exceeds $100 million over the first two years, the province will also give half of the surplus to municipalities hosting cannabis stores.
And, while Ontario prepares for the second wave of retail openings, at least some customers are now able to experience the in-person retail experience, where education and assistance are available.