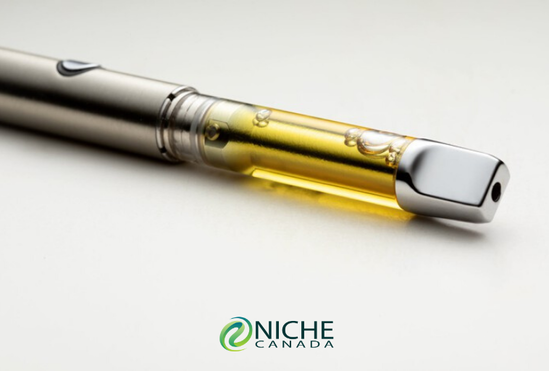 By NICHE Canada
It's difficult to read or watch the news these days without seeing a story about vaping. It's big news, not only because of its sharp rise in popularity, but also because of the increase in health concerns that are arising in Canada and the United States.
Severe lung issues associated with vaping are prompting health officials to issue warnings, although the cause is still a bit of a mystery. The U.S. Center for Disease Control and Prevention (CDC) has confirmed over 2,000 probable vaping illness cases and 39 deaths and say they believe the chemical compound known as vitamin E acetate may be to blame.
The latest U.S. findings suggest products containing THC, particularly those bought off the street or from other informal sources, are linked to most of the cases.
The numbers in Canada, however, are much lower. As of November 15, 2019, there have been only eight cases of severe lung illnesses related to e-cigarettes confirmed in Canada. For their part, Health Canada and the Public Health Agency of Canada say they are actively monitoring the vaping illness situation.
In light of the concerns, last week, the Société Québécoise du Cannabis (SQDC) announced that it will not sell cannabis vaporizers or products even though they are legal in Quebec. "For the moment, no we will not sell vaping product starting on Jan. 1 because, in the light of many health problems recently discovered in the U.S., we're uncomfortable with the idea of selling such products," said SQDC spokesman Fabrice Giguere.
Following this decision, Quebec's National Public Health Director issued a public health warning against vaping and its links to lung disease and asked the government not to sell vaping products until further notice.
Yet, despite the health concerns, there continues to be a sharp increase in the number of people vaping. There are no signs suggesting that people will people stop buying these products, so providing regulated options seems to be the most logical answer.
Cannabis vapes are among a series of new products that officially became regulated on Oct. 17, 2019, although the earliest these will be for sale legally in Canada is mid-December. The Quebec ban has drawn criticism from the Association Québécoise de l'Industrie du Cannabis (AQIC), which says it will only help the unregulated, illicit market.
In fact, many say that Canada's lower incidence of vape illness might be related to cannabis legalization. Canadian health officials say the chemical compound discovered in lung fluid taken from the U.S. patients is not allowed in regulated Canadian cannabis vaping products.
According to the B.C. Centre for disease control, legalizing cannabis means people can "access a safe regulated supply of cannabis and are therefore less likely to access grey market cannabis products, which right now seems to be the biggest risk factor in this illness."
That's why industry advocates say the answer to the vaping issues lies in regulation. Simply put, regulating the products and selling them in legal cannabis stores will make people safer. Banning a legal, regulated product will only force people to buy less safe products.