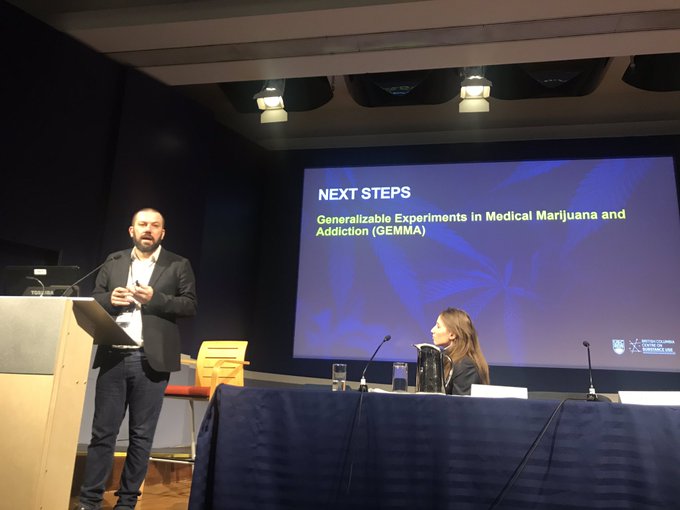 Last week, a new study revealed that daily cannabis consumption was associated with less frequent illicit opioid use among people who use drugs and report chronic pain in Vancouver's Downtown Eastside. 
While these results are encouraging, Dr. M-J Milloy tells BotaniQ Magazine that "the next big step will be clinical trials."
"So trying to replicate these benefits by giving people cannabis," he said. "We're hoping that trials are going to start soon. Hopefully some time in the new year." 
While early studies back in 2014 suggested people were predominantly using cannabis recreationally, Milloy said researchers are now hearing about all kinds of therapeutic uses, such as pain management, sleep and nausea. 
"We're seeing increases in the prevalence of each of those responses. So it appears that maybe with legalization, with lots of lowering of stigma, more people – at least in the Downtown Eastside – are using it in therapeutic ways."
Dr. Milloy shares plans to begin clinical trials (GEMMA) to investigate the benefits seen in observational trials #cannabis #CannabisScienceSymposium pic.twitter.com/3VkWm6fUD4

— BCCSU (@BCCSU) November 25, 2019
"I think what surprised me was the magnitude of the effect," Milloy said of the research revealed last week.
"We found that people with chronic pain in our studies – and these are people who are very high risk people who use drugs a lot of marginalization criminalization that sort of thing for example – 50 per cent of them reported being on opioid agonist therapy for opioid use disorder at baseline," he explained.
"So they have an underlying substance use disorder and we found among about 5,000 interviews that the people who told us they were using cannabis at least daily were approximately 50 per cent less likely to be using illicit opioids everyday, which is huge. It's very encouraging for those of us who are looking into this crazy idea that cannabis might be a beneficial intervention the opioid crisis."
READ MORE: Cannabis use may lower reliance on illicit opioids for pain management: BCCSU and UBC study
Milloy said the study's findings are "consistent with a lot of personal experience."
"I think a lot of people have an experience either directly or through friends or family with people who are using cannabis who self-medicate and certainly we've heard from some people that this sort of work helps them better understand their own cannabis use and what some of the risks and benefits might be," he explained. 
Milloy said there are a handful of other cannabis studies underway at the BCCSU, and is thankful to be conducting his work in Vancouver, which is a "unique environment when it comes to drug policy interventions. 
He noted the community has "a lot of hopefully progressive notions around people who use drugs and and indeed cannabis we've long had a very active medical cannabis activist community."
"The first Compassion Club in Vancouver in Canada was founded in Vancouver in the mid-1990s. So we've always been benefiting from that. So I certainly didn't face any resistance either at my institution or in the local community. And in fact, one of the big supporters of our work has been a local licensed producer of cannabis who gave the university funds to support this research into cannabis for the opioid crisis. Not the study that we're talking about today, but just our general program of research. So I think we've been quite fortunate in Vancouver, but of course that the same time we were also one of the hardest hit areas of with the overdose crisis.
"So we're going to continue with the observational studies in the downtown Eastside. We've got sort of three or four and various stages. So hopefully we'll be releasing more findings in the near future."
He noted preliminary data shows that less than one per cent of the people in this community who are using cannabis are accessing it legally. 
"That obviously has very important implications," he said. 
We're here at the inaugural Cannabis Science Symposium with Dr. MJ Milloy to delve into cannabis and harm reduction!

Read about research released by Milloy + his team last year here: https://t.co/BhPgj7zpzU @BCCSU @BarinderRasode #2019CSS #cannabis pic.twitter.com/Y4y8iqvE1s

— Grow Tech (@GrowTechLabs) November 25, 2019
Stay connected with the BC Centre on Substance Use by subscribing to our email list: https://t.co/sxdZBHi6mm pic.twitter.com/3te06lDu6w

— BCCSU (@BCCSU) October 26, 2018