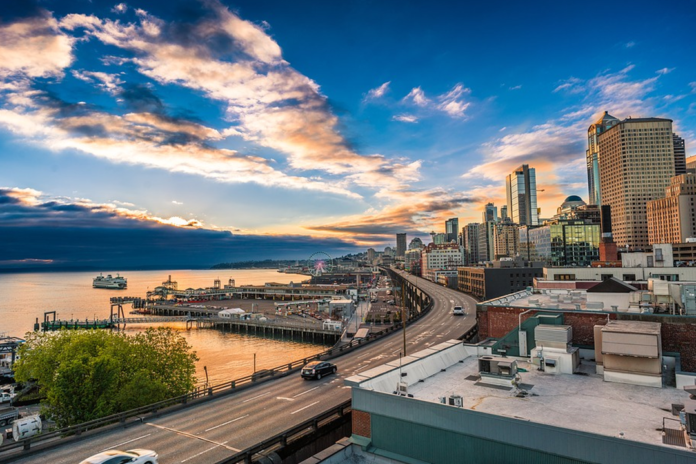 Five years in, here's how legalization has shaped our neighbors in the Pacific Northwest.
In November 2012, Washington State legalized recreational marijuana. And almost immediately, things started to change.
"Within a month of the law having passed, prosecutors across the state dismissed current pending charges for possession of marijuana," says attorney Alison Holcomb, reflecting on the early days of legalization. Existing charges at the time were arguably still viable cases, as Initiative 502, the law decriminalizing recreational marijuana, was not retroactive. Prosecutors, however, decided to take a stance, responding boldly to the message from voters that they would no longer support statewide prohibition. "Anybody who was breaking the law before its passing could still be prosecuted," adds Holcomb, who wrote I-502. "The fact that all of these adults had their criminal charges dismissed, no longer had to go to court, no longer had to deal with the stress of possible criminal conviction, was, to me, one of the most significant benefits of legalization."
Now, five years later, leaders of the fledgling cannabis industry take great pride in the integration of pot into mainstream society, but the overwhelming sentiment is that there is a lot of work left to do. Policy makers, once stuck between a model of criminal prosecution and a model of public health, are still hamstrung by the disparities between the tangible benefits of legalization and the promises made during the campaign.
Policy Pioneers
Over the past several decades, Washington State has approved a handful of policies regulating both recreational and medical marijuana. Between 1998 and 2011, laws surrounding the cannabis industry have fluctuated to set taxation standards, include patient rights, define parameters and tackle issues stemming from collective grow operations. Seeing a system comprised of several different bills and regulatory bodies, activists began to realize the years of new legislation had left the cannabis community in Washington unstable, with a foggy legal framework. There needed to be a clear law decriminalizing the cannabis industry. Enter Alison Holcomb and Initiative 502.
In 2012, alongside Colorado, Washington became one of the first states to legalize recreational marijuana—a shift that not only provided a concrete legal foundation from which a viable industry could grow, but also unified recreational and medicinal users. Under Initiative 502, adults 21 and older could purchase, consume and possess marijuana through state-licensed dispensaries. All avenues of regulation were appointed to the Washington State Liquor and Cannabis Board (LCB), including setting testing standards, approving licences and creating a set of inventory and production rules.
Three years later, Senate Bill 5052 set its sights on incorporating the medical marijuana industry into the new regulatory system. As of July 1, 2016, any illegal dispensaries that once served the longstanding medical community were forced to close or transition into licensed retailers. Much like recreational marijuana, all sales are now taxed, packaged and tested subject to a standard set of requirements before being sold.
Led by an alliance of politicians, dispensary owners and civil rights advocates, these initiatives promised an array of statewide improvements. With an increase in tax revenue and social funding, a decrease in crime and mass incarceration, a levelling of racial disparities in the justice system and a restructuring of law enforcement resources all on the table as potential positive side effects, the access to high-grade recreational marijuana seemed to be the least convincing of the arguments to legalize.
Once the movement to end prohibition began to gain momentum, opposition came from both sides. Some feared that legalizing would increase drug-related DUIs and marijuana use by minors, and they challenged the argument that decriminalization would yield the assured benefits to revenue and crime. The anticipated pushback came from law enforcement agents who weren't ready for a rollback on the criminal prohibition of drugs. "They essentially used the same arguments that led to the prohibition in the first place—that drugs are the things tearing apart the fabric of society and the best way to combat problematic drug use to treat it as a crime rather than a public health issue," says Holcomb. Similarly, those who were benefiting from the illicit drug trade and stood to lose economically from legalization resisted the proposition. The unexpected source of opposition, however, came from within the cannabis community. Pot activists expressed concerns about the strict regulatory framework proposed by I-502, suggesting it didn't go far enough. Instead, they believed state control was a new form of prohibition. "In their mind, it was almost as bad as having criminal prohibition in place," says Holcomb.
Jump forward five years, and a pattern of positive and negative impacts across all sectors shows that both sides of the debate were, in some way or another, right about legalization.
Seeing Green
Washington has seen massive statewide commercialization and exponential economic growth. According to the LCB, as of February 2017 over 2,697 recreational licences have been issued. Preliminary data for this fiscal year shows that as of January 2017 recreational and medical marijuana sales have generated a combined total of over $8 billion. According to some of the top industry leaders, this rapid expansion yields both profits and problems.
"It was explosive growth," says AC Braddock, CEO of Eden Labs. "Fortunately, we planned for it and our infrastructure was able to handle it, if just barely." Along with the economic boom, she says, fiscal expansion wasn't the only improvement in the industry since legalization.
For over two decades Eden Labs has been leading the industry in extraction technology, primarily with plant oils for herbal medicine. Long before legalization in Washington, the Seattle-based company had a noticeable customer base of pot entrepreneurs searching the market for machines to safely produce high-quality cannabis oil on a large scale. In an interview with Seattle Business magazine, Eden Labs founder Fritz Chess said legalization had dramatically increased business. With the bulk of sales now going to cannabis extraction, Eden Labs went from four full-time employees in 2011 to 17 salaried employees and 7 contractors in 2014. "We've pretty much tripled our size, tripled our growth and tripled our income," said Chess.
One of the most notable effects, Braddock notes, is an increase in gender equality among industry leaders. Eden Labs is presently one of the top 10 fastest growing women-led companies in Seattle, but Braddock recalls a time when seeing only a few women in a room of 100 men was the norm at cannabis-related events. After legalization, however, she began to notice a visible decrease in the gender gap. "Around 2014, it changed dramatically," she says. "Suddenly, half of the room was women." She attributes the spike to organizations like Women Grow that are dedicated to cultivating business and investment opportunities for women in the cannabis industry. According to a survey conducted by Marijuana Business Daily, women hold approximately 36 percent of the leadership roles in the young industry. "It's pretty well documented now that the number of female CEOs in the industry far exceeds other industries in the U.S.," says Braddock.
Braddock suggests, however, that not all byproducts of legaliz-ation were helpful to the cannabis community. She says one of the leading issues threatening the industry today is the abundance of misinformation and a lack of education. "One of the biggest changes we saw to the industry was the amount of people getting into it based on a Green Rush mentality," she says. "Many of them didn't really have a complete understanding of where the industry was going and how to manage its growth." A massive influx of business owners, growers and investors, many coming only equipped with knowledge based on long-established products like tobacco or liquor, quickly exposed a learning curve imbedded within the commercial side of cannabis. "It is a brand-new industry and it doesn't work the way that they think it's going to," says Braddock. Last year alone she attended over 30 speaking events across the United States, Costa Rica and Canada—mainly to promote new extraction technologies, but also armed with the mission of rectifying some of the murky knowledge surrounding product development.
"This isn't a short-term [investment opp-ortunity] at all, and a lot of them think it is," says Braddock. "It puts tremendous amount of pressure on the existing infrastructure of the industry." Rachel Kurtz, business development manager at the National Cannabis Industry Association (NCIA), says that despite the negative effects of the Green Rush, the overall impact of decriminalization on business has been overwhelmingly positive. "The options now for buyers are massive," she says. "Everything is tested for pesticides, consumers know where everything comes from . . . the dosage is safer, and the process of buying is much safer."
To Serve and Protect
Once I-502 passed, law enforcement policy devolved from tackling a criminal offence to a civil enforcement priority. While the raw data measuring the post-prohibition effect on crime is mixed, advocates living in Washington say the evidence of overall improvement is tangible.
"[The police] were wasting enormous sums of money, ruining careers and fracturing lives. We were actually contributing to a lack of public safety," says former Seattle police chief Norm Stamper. After 34 years of experiencing the War on Drugs as a law enforcement agent, Stamper refers to his activism as an anomaly in police thinking. His outspoken support of I-502 may have garnered opposition from his fellow colleagues, but his experience allowed for a rare perspective. He says that while behind closed doors many police officers supported ending the prohibition, one of the main drivers behind their public opposition was a factor that very few people discussed.
"Legalizing marijuana in the minds and hearts of many police officers [felt like society] was saying what they have done for, in many cases, decades was a waste of time," he says. "That they were somehow engaged in activity that did not contribute to neighbourhood safety or public health. It kind of turned into an existential question."
Additionally, many officers feared that more cannabis would end up in the hands of youth and there would be a rise in impaired driving. "They had kind of a doomsday script in mind," says Stamper. "Most of them really did believe the sky would fall if Washington were to legalize."
It turns out that law enforcement is the same as other sectors of society, facing a push and pull of positive and negative effects of legalization. This makes it exceedingly difficult for advocates to prove a distinct link between their efforts to end prohibition and their original promise to reduce crime.
"502 had tremendous impact. So many of the activities that were once considered crimes are no longer considered crimes," says Holcomb. "The number of arrests varied between upwards of six to nine thousand every year, with between two and three thousand being filed as criminal charges. Those numbers dropped to just 120 the year after 502 passed."
If only it were that easy. One may rightly assume a drop in arrests or fewer violent crimes indicates a positive link between decriminalization and law enforcement; however, a report published this month by the Washington State Institute for Public Policy (WSIPP) shows that the connection is not so simple to nail down. One study in the report suggests there is no evidence that the change in state laws caused an increase in property and violent crimes. The same study, however, did find a link to a decrease in homicide and assault. Another study WSIPP cited found evidence that nonmedical legalization may have led to a drop in rape and murder rates, while a different study found the increase in arrests pertaining to cannabis-specific crimes were in fact associated with medical legalization in 2014. According to the Seattle Police Department, both violent crime and property crime have steadily declined over the past two decades, but they say that has no significant link back to decriminalization.
This muddy collage of numbers and studies make defining the effect of legalization on crime rates incredibly difficult. There are some areas, however, in which the impact is measurable—validating some of the points made by both proponents and opponents of the law.
New information from a Washington State Healthy Youth survey and the WSIPP report corroborate the evidence that youth use has remained virtually unchanged for over a decade. Legalization didn't in fact increase the amount of drugs ending up in the hands of Washington's high school-aged kids. While this may help dispel some of the initial fears held by the opposition, there are areas in which their worries are arguably being validated. According to the Marijuana Impact Report released in August by the Northwest High Intensity Drug Trafficking Area program, concerns regarding drug-related DUIs have been legitimized. The report, citing the National Highway Traffic Safety Administration, states that the percentage of THC-positive drivers by day has more than doubled, from 7.8 percent in 2014 to 18.9 percent in 2015.
"One of the problems with marijuana enforcement is the absence of a legitimate and reputable testing mechanism that can be used in the field," says Stamper, citing this as a potential reason for discrepancies in traffic statistics. "Nobody should be driving impaired, whether it's marijuana or any other drug. We need to create technology that is fair, just and reliable."
While the numbers may not show a consistent correlation, Stamper says that the proof is evident. "For the longest time, police officers have pretty consistently lined up in opposition to legalization; now it's fundamentally reversed," he says. "The sky did not fall."
Racial Tension
One of the explicit arguments in favour of I-502 was that legalization would help eradicate the racial disparities existing in cannabis-related arrests. Unfortunately, while marijuana arrests dropped dramatically in Washington post-prohibition, racial profiling and the disproportionally high arrests of minorities still remain an issue. According to a study by Mike Males, a senior researcher at the Center on Juvenile and Criminal Justice, African-Americans are still two times more likely to be arrested for marijuana-related offences.
"While the sheer number of people being impacted by law enforcement in connection with cannabis has dropped significantly, the ratio of discrimination hasn't changed," says Holcomb.
"We do have a real problem with racial discrimination," agrees Stamper, who believes this is the area that currently needs the most attention. "It's an implicit bias, if not blatant racism, on the part of too many police departments and too many police officers."
The Black Market
Washington approached business licensing with a lottery, which unfortunately counteracted the original hopes of reducing black market activity. Existing illicit businesses and new hopefuls were placed into the same pool, with an equal chance of becoming a state-regulated dispensary. Any store that did not make the cut was officially operating illegally and was instructed to shut down—though many continue to operate, at a high level of risk. "Current medical stores that had no way of getting into the new adult-use market just continued underground, contributing to the illicit market" says Rachel Kurtz of the NCIA.
Kurtz says that the market in Washington is imbalanced, with some cities producing too much product while others have been left with virtually no legal stores or growers. This means that cross-border dealing from places with a surplus of marijuana is still prevalent, while individuals in areas with scarce resources are forced to buy from the black market. "The best answer to getting rid of an illicit market is to legalize it federally,"
she says. "That way anybody can get licence and [excess product] can get exported."
Farming at Home
With Washington being the only legalized state not to allow for individuals to grow their own plants, a statewide movement has manifested to secure home cultivation in the next round of legislation.
"It was not included primarily due to political concerns that including an allowance for home grow would jeopardize the measure passing in the first place," says Holcomb. After public opinion research showed that including a home growth provision was a cause for concern, policy makers decided they wouldn't risk the whole initiative. "Every detail that might push support one way or another was important," says Holcomb. "I do believe it is time to revisit that question."
Kurtz personally agrees. "Look at beer, for example. Some of the best microbreweries come from individuals who had a hobby of brewing at home and decided to expand," she says. "It's unfortunate that people aren't able to get a licence anymore or grow at home, because [the industry] is missing out on people who may be really good at growing."
Going forward
Measuring the long-term effects of legalization with only a margin of five years is almost an impossible task. Changes in crime rates, industry fluctuations and social developments have really only just begun to show a discernable link. What is apparent, however, is that legalization was the right move for Washington State. The group dedicated to passing the law in the first place is still highly active in building on their original work, in hopes of seeing more definitive positive impacts across all sectors.
Holcomb says that while many initially opposing views have since been moderated after experiencing the benefits of a regulatory system, there still continues to be objections to the current framework. "It's healthy that opposition exists," she says cheerfully. "We should continue to evolve the policy based on a growing real-life experience with how the current structure is growing."