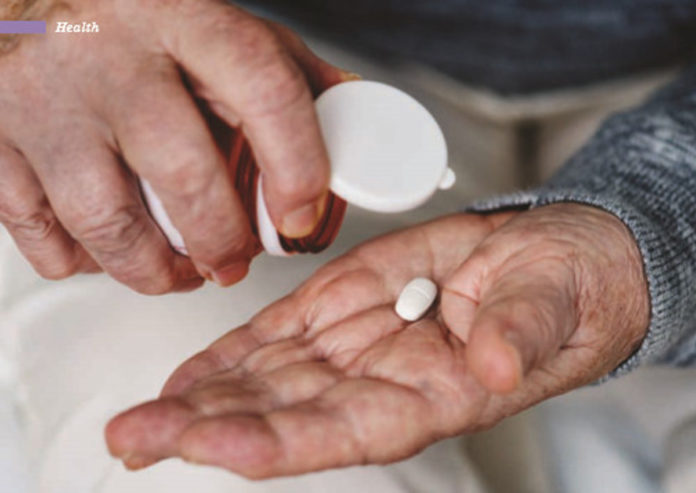 By Stephen Smysnuik
Ross Middleton endured 15 years of chronic, burning pain before he found reliable relief.
The 62-year-old Ontario native suffers from small fibre neuropathy, a neuropathic condition in his lower limbs that made him feel as though he's constantly on fire.
It never stopped. Still doesn't.
He'd been treated for over a decade by a variety of doctors and specialists, each prescribing a cocktail of pharmaceuticals that in the end did very little.
Nerve pain, Middleton says, is "notoriously hard to treat."
That is, until cannabis entered the picture.
A few years ago, his wife began experimenting with homemade cannabis-infused topicals, which he applied to his skin.
"Lo and behold, I have 40 per cent relief from the burning, which is something all the opiates and all the pharmaceuticals they gave me for a decade never did," Middleton says. "This is a wonder drug. For seniors, it's ideal."
Today, Middleton is the executive secretary of the Ontario-based Canada Therapeutic Cannabis Partners Society, a clinic that which focuses on medicinal use of cannabis, and in part specializes in treating seniors.
He says this work is so vital right now because the largest ever aging population – the Baby Boomers – will all be over 60 years old by 2020.
By establishing some norms and procedures of medicinal cannabis treatment for these people, he says the Canadian health system can avoid some of the long-term and debilitating side effects the have been shown to affect seniors using other pharmaceuticals – including opiates.
Research so far has shown that cannabis can help treat chronic ailments that seniors often face, including Alzheimer's, dementia, Parkinson's and multiple sclerosis. It can also help treat less serious (but no less chronic) conditions from insomnia to inflammation and joint pain.
LISTEN: Treating MS with cannabis
The European Federation of Internal Medicine conducted a study of 2,736 patients above 65 years of age and found that cannabis is safe and efficacious in the elderly population and may help decrease the use of other prescription medications with negative side effects including opiates.
Research has also shown positive effects in Alzheimer's patients on behavioral symptoms such as agitation and aggression.
Under lab conditions, THC in particular appears to remove the Alzheimer's hallmark amyloid clumps, which builds up as plaque on nerve cells, and is responsible for dementia. In other words, THC may actually target the underlying processes behind dementia, improving cognition function.
More research is needed on all of this, and the passage of the Cannabis Act has opened the doors to research on a massive scale. Research permits are now readily available. Financial support in the form of government grants and private funding from pharmaceutical companies and licensed producers is being made available – for good reason.
There are roughly 160 cannabinoids in cannabis, many of which have yet to be studied, and which these organizations hope this research will find medicinal value for.
See also: UBC hires pot professor to study cannabis as opioid treatment
Despite the research, many seniors across Canada are "in the dark" to the benefits of cannabis use, according to Terry Roycroft, president of Medicinal Cannabis Resources Centre.
He says some are outright fearful of the impact that legalized cannabis could have on society.
"This group was not part of that Sixties revolution," Roycroft says. "They were just ahead of that, and they didn't have the cultural comfort with cannabis. They consider it a drug. They ask, why should we use this?"
He says more education is needed to reduce stigma and to advocate for cannabis' benefits. Several organizations in B.C., including the MCMP and the BC Care Providers Association, are working to educate care providers, and by extension the seniors' population, on cannabis.
The BCCPA held an event in October, entitled Cannabis in Care: Weed Like to Know, to tackle the subject.
The BCCPA has also been offering education workshops on cannabis use for its members, and Michael Kary, director of the BCCPA, says there are plans for more once the Ministry of Health establishes its guidelines on cannabis and care.
"In some of our meetings with the Ministry, they've raised the issue of maybe establishing some guidelines for long-term care and assisted living," Kary says.
For the time being, its up to the individual facilities to establish their own policies. Many allow cannabis to be used, and administer it the way they administer administer prescription drugs or alcohol.
Of particular concern for the industry, however, are protocols and SOPs for staff administering cannabis, as well the effects and interaction with other drugs.
Roycroft says dosing education in particular is vital.
"Low and slow" is the basic message the MCMP has been giving.
"You don't want to green out if you're a senior, that's for sure."
Still, the old stigma is showing signs giving way.
Statistics on cannabis use among seniors aren't currently available, but Roycroft has noticed, through conversations with care professionals and with seniors, that interest is growing, and the number of requests for cannabis along with it.
It makes sense, Roycroft says.
"They've been on anti-inflammations and painkillers for years and they're starting to have issues. They're stomachs or livers are getting impacted. [Cannabis] allows them to cut back on some of the pharmaceuticals that have been hurting their bodies for all these years."