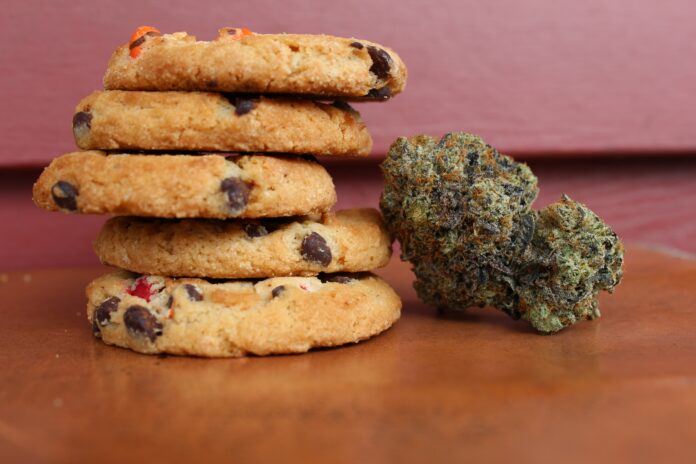 The head of the National Institute for Cannabis Health and Education says Canada's recently revealed regulations for edibles "begs for a little more clarity" in terms of what "appealing to children" means when it comes to packaging.
"I was at the press conference, a lot of folks were asking, 'Is this appealing to children? Is that appealing to children?' There weren't clear answers," said Dr. Jenna Valleriani, who is CEO of NICHE Canada and is with Hope for Health, the first registered charity focused on compassionate access to medical cannabis for Canadians.
"They'll likely do what they've done in the past – wait for companies to come out with products and then establish what compliance means."
Valleriani said there's going to have to be "a lot of innovation" from producers.
"Besides obvious branding of course," she said. "There are a lot of grey market products that borrow from products of names we know, like Reese's Pieces. But in the case of actual products, what distinguishes an appealing gummy from a non-appealing gummy? That will be interesting and it's probably purposefully vague."
READ ALSO: Cashing in on cannabis: How communities benefit from an embraced, regulated industry
Cannabis expert Deepak Anand – who serves as CEO of CBD and medical cannabis company Materia Ventures and spent years working with Health Canada helping developing medical cannabis regulations – agreed that Health Canada hasn't provided a lot of clarity around what packaging needs to look like and said it hasn't "defined what it means in a thorough way."
"There's a lot of ambiguity," said Anand. "And this is true to most sides of this regulatory process and path they've created. There's a lot of ambiguity. There's ambiguity on the marketing side, there's ambiguity on the production side, there's ambiguity on a variety of different things, and this is just one more example."
"On the one side, it hasn't been surprising to see the way they've gone about doing this because we knew from the proposed approach that they had released that they were going to be very cautious, and very cagey almost, in terms of the way they've gone about rolling this out," Anand said.
The "single biggest surprise" in those regulations was that "no comments were taken or listened to from an industry perspective, said Anand. 
"I know Health Canada received a broad amount of feedback from industry in terms of changes they'd like to see post- the proposed regulations coming into effect. the fact that none of it was actually incorporate was probably the most surprising thing for me. Industry works very closely with Health Canada and when we saw a number of things that were issues, there was a lot of feedback provided but none of that feedback was taken."
According to Anand, this demonstrates the industry is "being regulated too severely and there' a lot of barriers in getting products out into the market and Health Canada isn't really making their lives any easier."
"When you apply for simple amendments, simple applications, it takes a very long time," he noted. "When you're trying to balance that with shareholder interest and trying to get profitability and all the issues companies face, it's not looking like a fostering environment for companies that are in the game."
READ ALSO: Canada's THC limit for edibles a 'disappointment' for medical cannabis patients
READ ALSO: The Highs and Lows of Edibles Legislation in Canada
Health Canada's finalized regulations for the legal production and sale of edible cannabis, cannabis extracts and cannabis topicals is to take effect on Oct. 17, 2019.
The rules require "child-resistant and plain packaging for edible cannabis to lower the risk of accidental consumption and make packages less appealing to young persons."
"The label will need to display the standardized cannabis symbol and a health warning message. It will be prohibited to make any claims respecting health benefits or nutrition on the label," Health Canada states.
Asked for further clarification on how it will define what is "appealing to children" for cannabis packaging, Health Canada told BotaniQ Magazine to refer to recommendations from the Task Force on Cannabis Legalization and Regulation that suggested "any product deemed to be appealing to children, including products that resemble or mimic familiar food items, or that are packaged to look like candy, should be prohibited."
Other recommendations state that packaging be implemented with standardized single servings; a maximum amount of THC per serving be established, both on a per-serving and a per-product basis; and mixed products be prohibited – for example, cannabis-infused alcoholic beverages, or cannabis products with tobacco, nicotine or caffeine.
Health Canada's website also states that consistent with rules that apply to vaping products under the Tobacco and Vaping Products Act, it is "proposed that the Regulations would prohibit the representation of certain flavours that are appealing to youth, such as dessert or confectionery flavours, on the packaging and labelling of cannabis extracts."
It adds: "The prohibitions described above would be in addition to prohibitions set out in the Cannabis Act that prohibit the promotion, packaging and labelling of cannabis that could be considered reasonably appealing to young persons, the sale of cannabis products or cannabis accessories that have an appearance, shape or other attribute or function that could be appealing to young persons, as well as the use of false or misleading claims."